Fentanyl Deaths Are Increasing In Black Communities To Disturbing Levels, Researcher Says
The sudden increase of fentanyl in street drugs and systemic racism are at the heart of the skyrocketing death toll.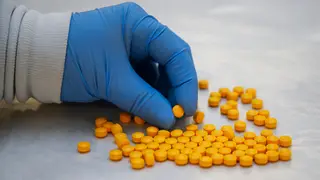 A transition from heroin to fentanyl in the street drug supply is at the root of the alarming rise of overdose deaths among Black Americans. Structural racism and the stigma of addiction are two factors driving the increase.
Joseph Friedman, a UCLA addiction researcher and co-author of a study in the American Journal of Psychiatry, noted that fentanyls are cheaper to produce and transport and much more potent, PEOPLE reports.
"They are also more dangerous, and their market takeover has led to a huge increase in overdoses. As early as 2018, Black communities were more affected [by fentanyl] than white communities," Friedman stated.
An analysis published in March in the journal JAMA Psychiatry found that the death rate from drug overdoses among Black people was higher in 2020 than among whites for the first time since 1999.
Researchers found that the overdose mortality rate for Blacks increased from 24.7 deaths for every 100,000 people in 2019 to 36.8 per 100,000 in 2020 — 16 percent higher compared to the 31.6 per 100,000 overdose death rate among whites.
Structural racism is one key factor that explains the skyrocketing overdose mortality rate in the Black community. Friedman pointed to the systemic lack of access to quality health care for Blacks compared to whites. Specifically, there's a disparity in access to substance abuse treatment and addiction specialists.
PEOPLE spoke with Desilynn Smith, a clinical director at a Milwaukee substance abuse treatment center, who has an insider's understanding of the factors behind the rising overdose drug deaths.
"I knew 11 people who passed last year, and five so far this year. They were all African Americans," Smith, 52, told PEOPLE.
In her 15 years on the frontlines, Smith says Blacks are "put on the back burner for everything." At the same time, there are not enough therapists who are African American and who understand Black culture.
"African American [drug use] looks different, so a therapist has to understand this," stated Smith, who understands, first-hand, the shame associated with addiction in the Black community.
Her husband, peace activist Hamid Abd-Al-Jabbar, 51, died in February 2021 of a fentanyl overdose. Smith said shame played a role in his demise.
"I felt the shame of letting everyone know about his addiction," she said. "Shame because I thought about the different hats I wear in the community, not wanting my friends and coworkers to know, the fear of what people would say about me. I didn't want to appear weak or vulnerable."
WTMJ reported that the couple met when they were 15. At age 19, he was convicted of homicide but changed his life. After his release, Abd-Al-Jabbar became a community activist and violence interrupter. His personal battle with depression inspired Smith to become a mental health and substance abuse counselor.
"I feel like I failed him," Smith told WTMJ, explaining that the stigma among Blacks of seeking treatment runs deep, even for a mental health counselor.
"I shy away from that type of support (mental health therapy)," she said. "I know the importance of it, and I'm the first to admit that we still have this stigma that we have to get rid of."