Janet Jackson FaceTimed Teyana Taylor, And She Did Not Know How To Act
Black girl magic in full effect.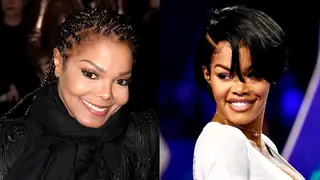 We imagine that anyone with ears and eyes would be devastated to miss a concert from the legendary music icon Janet Jackson, especially over something as simple as a delayed flight.
This, unfortunately, became Teyana Taylor's reality over the weekend, who we all know to be one of Janet's hugest fanatics ever. And her reaction to Janet's personal phone call to her after missing the show proves that no one stans for Hollywood's finest as hard as celebrities themselves. 
It all started with a special message via Snapchat sent from Janet's State Of The World Tour dance troupe.
"@teyanataylor We LOVE you and wish you could be here tonight but please come to another show!!," the wrote to the GOOD Music starlet. "Much love, SOTW [State Of The World Tour] DANCERS."
But that wasn't all the compensation she received for her missed Janet experience. About an hour later, she exploded in 140-character excitement after Janet personally FaceTimed her with a special message of her own. Miss Damita Jo matched her excitement on Twitter, too, posting a photo of their one-on-one video chat and assuring Teyana that it wouldn't be the last she's seen of the "Rhythm Nation" icon.
"I meant what I said," she wrote to Teyana. "You're so beautiful! Can't wait to meet you in person. Love and blessings – J."
See how quick Janet turned Teyana's bad day into one of the best of her life below.