Nick Cannon Announces New Game Show 'Who's Having My Baby?'
The show will be hosted by Kevin Hart.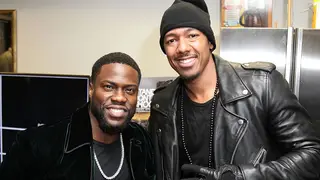 In today's, "You can't make this up" news, Nick Cannon took to Twitter to announce the new arrival of (no, it's not another baby) a game show hosted by Kevin Hart. But don't fret, the show has to deal with of course, babies. 
Who's Having My Baby, which will premiere on E! in the spring, apparently is a competition featuring women who are vying to have Cannon's next baby. We'd like to also remind you, it is not April Fool's Day.
Take a look at the clip shared on Twitter:
Cannon, who is already the father of 12 kids, definitely received some not-so-positive feedback on social media, with many people questioning why in the world would anyone think the show was a good concept.
And a game show about a baby will make 13? Who knows at this point!