Cardi B. Reveals How Serious The Beef Between Strippers And Bottle Service Girls Is
It has led to a city-wide stripper strike in NYC.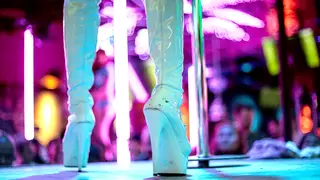 There's been a war brewing in the concrete jungle between dancers and bartenders at New York City strip clubs and this week s**t hit the fan when strippers started striking. #NYCStripperStrike is calling out the bartenders that they work alongside for stealing their money. With the explosion of social media, promoters are now hiring bottle girls who are somewhat Insta-famous, giving them "uniforms" that could pass for a strippers' and letting them twerk behind the bar. You can see how this can be quite confusing for the customers who are passing them dollars instead of the dancers. Plus, strippers are calling out the bottle girls for literally swiping the money that does get tossed on stage. Well, strippers have had enough and refuse to shake it until there's a change.
The bottle girls aren't the only issue, either. Strippers are furious over colorism claims that say dark skinned dancers are getting pushed aside for Latina or more "exotic" looking dancers. Allegedly, club managers are going as far as keeping Black strippers out of VIP or not letting them hit the stage on celebrity-hosted nights.
So far, a settlement hasn't been reached, but the internet has a suggestion as to who should squash the beef once and for all — Cardi B! 
Cardi has never been shy about her stripper past and even though she's making money moves now, she took to Instagram recently in support of the entertainers.
DJ Kay Slay's thoughts seemd to differ when it came to the strippers vs. bottle girls beef. In a lengthy Instagram post, he says it's a "new day" and isn't mad at the bartenders' hustle but takes issue with the racism. "What I do understand and acknowledge is that there is RACISM against black women in most of these NY strip clubs! It has been going on for a while now it didn't just start? At some of my events when it's celebrities in the VIP I have to grab the black women by their hands and pull them into VIP," he writes.
What are your thoughts on the #NYCStripperStrike?