Keke Palmer Says Queen Latifah And Ice Cube Launched Career
The actress says she hopes to create opportunities for people in her community.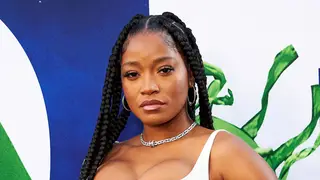 Keke Palmer has been the talk of the town since the release of Jordan Peele's film NOPE. In a new cover story with Glamour Magazine, the actress credited Queen Latifah and Ice Cube who helped catapult her career into a heightened success.
The actress starred alongside Latifah in the 2012 musical comedy-drama film Joyful Noise with Dolly Parton. Palmer also starred in the sports drama film The Longshots with Cube.
"Because of their success, I got an opportunity," Palmer shared.
"Many young people want to find a way to get into the business and think that the only way you could be is onscreen," she added.
The 28-year says that she aspires to pave the way for rising hopefuls in the entertainment industry and open doors for them.
"I hope one day I can be in a position to produce and create opportunities for people in my community, not just onscreen but behind the screen," she says.
Palmer's extensive resume dates back to 2004, according to IMDb. She has starred in her own show True Jackson, VP on Nickelodeon in 2008, which ran for three seasons. Other notable credits include Akeelah and the Bee, Hustlers, and Scream Queens. She recently voiced a role in this year's Pixar film Lightyear and served as the co-host of Good Morning America's segment, Strahan, Sara & Keke.