Missing Ex- Ex-Football Player Sergio Brown: 5 Facts Police Have Revealed
Brown has been reported missing after his mother, Myrtle Simmons-Brown was discovered dead near her home in the Chicago area.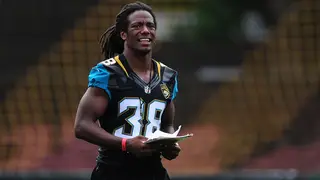 Former NFL player Sergio Brown has been reported missing since and his mother was found dead after a wellness check was conducted at her home in Maywood, a suburb of Chicago, CBS Chicago reports.
Before his sudden disappearance, Brown was best known as a defensive back for several teams including New England Patriots Indianapolis Colts, Atlanta Falcons, Jacksonville Jaguars, and Buffalo Bills.
As of Tuesday (September 19), law enforcement officials are still in search of Brown's whereabouts. As the case continues to unfold, here are 5 Facts That The Police Have Revealed.
1. Brown's Mother Died As A Result Of An Assault
Brown's mother, Myrtle Brown was pronounced dead on Saturday Cook County Medical Examiner's Office spokesperson Natalia Derevyanny said after her body was discovered near a creek behind her home in Maywood, a Chicago suburb. She was 73.
An autopsy revealed that she died "from multiple injuries related to assault and her manner of death was homicide."
"Upon conducting a second and wider search of the area, Myrtle Brown was discovered unresponsive near a creek to the rear of her residence," police wrote in a press release.
2. Both Sergio and Myrtle Brown Were Reported Missing By Their Family
On Saturday, Sergio and Myrtle Brown were reported missing by family members according to local law enforcement who launched an investigation.
"Maywood Police Officers initiated a missing person report and began making attempts to locate both individuals," a police news release read.
Carlos Cortez, a neighbor of Myrtle Brown's, said that he last saw her on Thursday (September 14), and there her family was actively in search of the mother and son.
"Her family came and knocked on the door and was looking for her because they put out a police report because she was missing for 72 hours," Cortez explained. "So, we tried to help them as much as possible."
Cortez, also said he provided police with footage from his doorbell surveillance footage from the time he last saw Myrtle Brown.
3. Sergio Brown Has Not Been Named A Suspect In His Mother's Death
After Myrtle Brown's death was ruled a homicide, Sergio Brown has not been named as a suspect or person of interest in connection to the murder, according to local police.
4. Sergio's Brother Nick Brown Posted On Social Media About
On Monday, Nick Brown, Sergio's brother, shared that his family was still in search of his missing sibling.
"My brother Sergio is still missing. If anyone knows where he is I want him to know that I love you and please come home," Nick Brown wrote on Instagram.
"People, please don't approach the property, this is still an ongoing investigation by the Maywood Police Department. If you have any information on Sergio's whereabouts please send them to the Maywood Police Department," his post continued.
So far, Nick's Instagram post has been shared by the family.
5. Myrtle Simmons-Brown's Sister Breaks Her Silence About The Case
Sheila Simmons, the sister of Myrtle Simmons-Brown has spoken out about the events that led to the tragic death of her sibling.  According to local news station WGN9, Simmons said she last spoke to her sister on Thursday, Sept. 14.
We're going to find out what happened because it's not normal for my sister to not answer her phone, not to respond to text messages," Simmons said. People have been reaching out to her since Friday. No one was able to reach her."
"Now, I got the call this morning saying that she's missing, so immediately I came out here and found out my sister is dead," she continued.
She also noted that she searched for his sister's body a day before it was discovered.