Rihanna: Expectant Mom Beats The Heat In Barbados In Crop Top, Denim Mini And Snow Cone
The singer is currently pregnant with her second baby.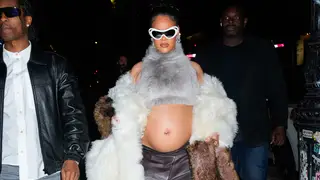 Rihanna is showing us how to beat the heat while still looking cute.
Bad girl RiRi might be expecting her second baby, but that is not stopping her from having fun in the sun. The "Lift Me Up" singer was spotted in her homeland of Barbados on Saturday (July 1) while cooling off with a summer time favorite; a snow cone, according to PEOPLE
The beauty mogul and Grammy-award winning singer was seen taking in the scene near her villa on the Caribbean island, while in style like the fashion star she is.
While her barefoot on the ground, Rihanna rocked a black crop top, denim mini, straw hat, along with a diamond tennis bracelet and matching necklace. Posing with her left arm on her hip, and toasting a snow cone in her right, the mom-to-be was cool, casual, and copacetic with her long wavy locs and her signature red lipstick.
Just Jared reports that Andrew Maynard –owner of Dexter the Snowcone MAN– had the honors of serving the tasty desserts to RiRi and her boyfriend A$AP Rocky.
Staying true to the essence of Barbados, Just Jared and The Daily Mail reported that Rihanna's sweet treat was made with ginger and coconut, while the "D.M.B." rapper spiced his up with coconut and Hennessy.
The duo – who are the proud parents to 13-month-old baby RZA– is getting ready to welcome a new baby to their growing family.
Rihanna broke headlines in February while performing at the Super Bowl when she introduced the world to her growing baby bump. After her history making performance, a source opened up to PEOPLE on her motherhood journey and the joy she is experiencing while being pregnant again. "Rihanna has so many things she is grateful for. She is ecstatic about how her show went. She felt great about performing again. She was also super excited to confirm her pregnancy."
The source also says that Rihanna "wants several kids and is happy that her son will have a sibling come summer."