See Queen Latifah In First Trailer For CBS Series 'The Equalizer'
Her portrayal of the iconic vigilante has Twitter talking.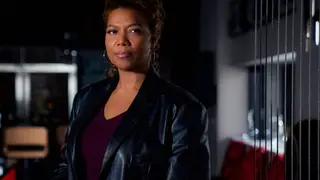 Queen Latifah is set to star in an upcoming CBS TV drama series The Equalizer, which will debut Feb. 7 immediately after the Super Bowl. The show is a remake of a popular 1980s television series about a crime fighting vigilante. Denzel Washington starred in a 2014 movie based on that series.
While Latifah's casting in the show was announced last month, we now have our first look at the award-winning actress in all her butt-kicking glory. CBS released the first trailer for the upcoming series, which you can see below:
The release of the trailer immediately got the Queen trending on social media. While a few haters are having trouble with the idea of the iconic role being played by a woman, folks overwhelmingly are thrilled to see the Set It Off star back in action:
The Equalizer premieres Sunday, February 7 on CBS.