Steve Harvey Accused of Racism in Lawsuit and He Claps Right Back
The comedian's past comes back to haunt him.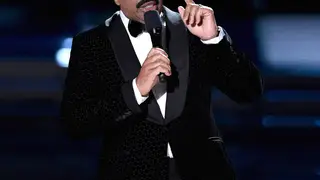 Steve Harvey, also known as the man with 10 jobs, has been in some hot water lately as one of his former employees is trying to get $5 million out of him for some allegedly racist comments he made on tape.
According to Radar Online, the former employee, Dallas native Joseph Cooper, claims to have video tape footage of the talk show host going off in a racist tirade about white people, allegedly spewing comments like, "spit on white people," and "go assault old white women!"
Harvey, however, has responded to Cooper's claims in a lawsuit of his own. In the documents, he claims Cooper is trying to extort him by selling old videos of his comedy routines that date more than 20 years back.
"Mr. Cooper has initiated a campaign to essentially extort me and embarrass me as I start to build my entertainment career," the Family Feud host said in court documents.
To make matters worse, it is being reported that Joseph has been trying to auction off the tapes to Harvey's employers whenever he is hired for a gig to "inform them of potantially embarrassing material and or tapes and attempt to have them influence Harvey to pay for the tapes."
Joseph's gripe with Harvey is clearly personal as, in an interview with Radar Online, he calls the television personality "the worst person that's ever been on television."
Meanwhile Steve just keeps raking in the cash. Learn about his next business venture in the video, above.