Illinois Governor Signs 'Racism Free Schools' Act Into Law
The legislation requires Illinois schools "to create, implement, and maintain at least one written policy prohibiting discrimination.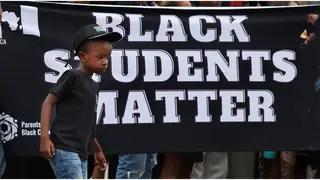 Lawmakers in Illinois have passed legislation to create racism-free schools throughout the state, local Evansville, Ind., station WEHT reports.
Signed by Gov. JB Pritzker last Friday (August 4), the Racism Free Schools Act will require Illinois schools "to create, implement, and maintain at least one written policy prohibiting discrimination and harassment against students based on race, color, or national origin. "
Additionally, the bill forbids retaliation against students who submit complaints to school administrators. The Illinois State Board of Education will be responsible for collecting data "on all reported allegations of discrimination, harassment, or retaliation against students."
Illinois House Rep. Maurice West, a co-sponsor of the bill shared his excitement at the passage of the legislation.
"Here in Illinois, we will not tolerate racism or discrimination within schools – period," West said, according to WEHT. "But with incidents of hateful conduct on the rise across our country, we must do more to protect students and teachers."
State Sen. Laura Murphy, another co-sponsor of the bill added, "This is a bill that would define racial discrimination, prohibit it in schools, and provide an avenue for some restitution and correction of that behavior."
Jim Bennett, Director of the Illinois Department of Human Rights stated that he and his entire department is committed to protecting students and teachers against racial discrimination and hate crimes across the state.
"I will say there are no easy answers to racism or bullying. This bill is a start, and I'm so thankful for all who have worked on it," Bennett explained. "I truly believe the vast majority of our teachers, our administrators, and our schools want and are trying to do the very best thing for our students."
Bennett also said that his department has worked with the State Board of Education, Illinois Attorney General's Office, Illinois Association of School Boards, and the Pritzker administration to reconfigure the language of the state's current statute.
In May, the legislation passed in the state House on an 87-18 vote and was unanimously supported in the state Senate by a vote of 53 to 0.
West is hopeful that the bill will reduce racial discrimination in schools and that it could be a blueprint for addressing racial incidents throughout the state.
"As we continue to see a rise in incidents of hateful conduct across our country, it is clear that our actions need to match our words," said State Rep. Maurice West. "That's why the Racism-Free Schools Act is so important because it will not only require districts to create and implement a policy on discrimination and harassment but also help the state track incidents of racism so we can better address concerning conduct across our state."