Andre 3000 Reveals Advice Prince Gave Him After 'Horrible' Concert Performance
The rapper says the music legend's advice helped uplift him.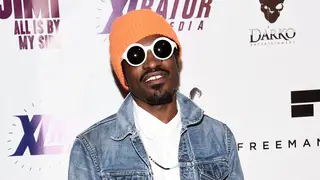 Andre 3000 has been making some pretty interesting revelations in the small handful of interviews he's done surrounding the release of his new instrumental album New Blue Sun.
During a sit-down with GQ, the Atlanta rapper recalled a phone conversation with Prince after an OutKast performance he deemed "horrible."
"I ain't been on stage in damn near 15, 20 years! So it was odd for me," 3 Stacks said of his 2014 Coachella headlining set. "And right before the show, you see Paul McCartney walk and go to the left side of the stage. And then Prince walks to the right side of the stage. I'm like, 'Ahhh! What the f**k, man?!'
The "Hey Ya" artist noted that the new technology was a major factor in the suboptimal set, adding: "You know, there's new technology like ear buds and s**t. I'd never used ear buds in my life! We were always just in front of the monitors or listening to the speakers, so if you were watching the Coachella show, I got people in my ear talking and s**t. It's like, 'What the hell is going on?!'"
"Halfway through the show, I was already checked out… so I was just trying to get through it," he added. "Yeah, the show happens and it was a bomb night. It was horrible — in my eyes."
A day later, Prince made the phone call to Andre and provided him with some very uplifting words.
"The very next morning I get a call from Prince. I don't know him like that, I don't know how he got my number — I do not know," he recalled. "And the first thing he says is, 'You know what your problem is? You don't realize how big y'all are.' Then he was like, 'You gotta remind people who you are.' And from that point on, I was like, 'Okay.'"
Watch the full GQ interview below.