Trump Says He's The 'Least Racist Person' While Continuing Attacks Against Elijah Cummings
The president also boldly claimed he's received calls from Black people in Baltimore thanking him.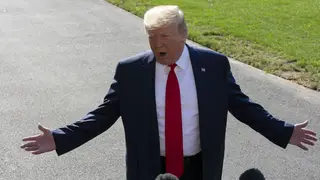 As Donald Trump's attacks against Rep. Elijah Cummings head into week three, the president appears to be doubling down on his racially charged statements.
While speaking with the press on Tuesday, Trump fired back at questions regarding whether his remarks calling Cummings' district "a disgusting, rat and rodent infested mess" were racist, reported Politico.
"I am the least racist person there is anywhere in the world," Trump claimed.
Trump has also accused Cummings and other Baltimore City politicians of stealing federal funds given to the city.
"Baltimore's numbers are the worst in the United States on Crime and the Economy. Billions of dollars have been pumped in over the years, but to no avail. The money was stolen or wasted. Ask Elijah Cummings where it went. He should investigate himself with his Oversight Committee!" Trump tweeted Monday referencing Cummings' position as Democratic chairman of the House Committee on Oversight and Reform.

Trump repeated the allegation to the press on Tuesday while also claiming people from Baltimore have called to thank him.

"People have called from Baltimore, thanking me so much. There's all that money that's been spent — over 20 years has been stolen and wasted by people like Elijah Cummings," Trump told reporters outside the White House.  "I've received more phone calls than I think on any other subject of people from Baltimore and other cities corruptly run by Democrats, thanking me for getting involved."

"Those people are living in hell in Baltimore. They're largely African-American, you have a large African-American population, and they really appreciate what I'm doing. And they've let me know it. They really appreciate it," Trump added.

"The African-American people have been calling the White House. They have never been so happy as what a president has done," Trump said. "They're so happy that I pointed out the corrupt politics of Baltimore. It's filthy, dirty. It's so horrible, and they are happy as hell."

Although Trump made incendiary claims about the mishandling of money in Cummings' district in Baltimore, many suspect his attacks are to distract from the House Oversight Committee's current investigation into several members of Trump's administration.