Paula Patton Responds To Criticism About Her Fried Chicken: "My Mom Taught Me"
"I'll take suggestions and make a new kind of fried chicken," said the actress in her Instagram post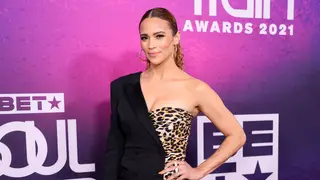 Everyone has their own way of frying chicken and Paula Patton is letting social media know hers in a recent Instagram post.
The Sacrifice actress found herself as a trending topic this week after showcasing how she makes fried chicken in a post originally stemming from about a month ago (Mar. 4th) where we see Patton cleaning the chicken in the sink in a different way than others may clean their poultry.
Social media caught wind of the video this week and had thoughts on the Baggage Claim star's cooking methods.
The Jumping The Broom performer had time yesterday during what seemed to be a vacation in Mexico with her son, Julian, to address the feedback from the video. The criticism didn't seem to phase her as she was "all smiles" in her response.
"It's all good because everybody's got their own way of making things," she said.
"I'll take suggestions, I'll make a new kind of fried chicken, but I'm gonna always make my mom's chicken the way she did it. We put the seasoning in the oil and all that. It's just the way we do it."
Whether you stan or not, somebody is enjoying those pieces of chicken and that's all that matters.