Coach Deion Sanders Risks Having Left Foot Amputated
The retired NFL legend and current University of Colorado football coach has had ongoing issues with blood circulation.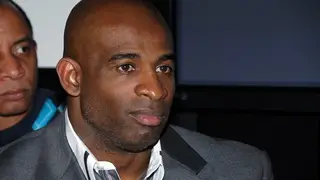 University of Colorado head coach and retired NFL legend Deion Sanders may have to have his left foot amputated due to blood circulation issues that caused him to have two toes removed in 2021.
According to the Associated Press, Sanders allowed a camera crew from Thee Pregame Show to attend a meeting with the University of Colorado medical team. In the 11-minute segment released Friday on YouTube, Sanders met with orthopedic surgeon Dr. Ken Hunt, vascular surgeons Dr. Donald Jacobs and Dr. Max Wohlauer and athletic trainer Lauren Askevold to discuss his daily pain levels and possible next steps.
You just have to understand what the risks are. Things can cascade," Jacobs said, adding that Sanders might not just lose another toe but "he could lose the foot."
"Well, I know what risks are," Sanders replied. "I only have eight toes. So, I'm pretty sure I understand."
In the clip, Sanders says that he has no feeling in the bottom of his left foot and if amputation is necessary--he wants to do it before the start of the football season.
"I want to do it this summer because when we get rolling, I'm not going to have time to do it," Sanders said. "This is the best downtime I have."
When Sanders had two toes amputated he was the head football coach at Jackson State University and he missed three games during his recovery.
As Sanders prepares to open his first season as the coach of the University of Colorado Buffaloes, the AP writes, the university has sold out its spring game in April and its season ticket allotment for the first time in nearly three decades.