Reps. Alma Adams And Lauren Underwood Form First Black Maternal Health Caucus
The caucus was created to address the higher rate of pregnancy-related deaths suffered by Black women.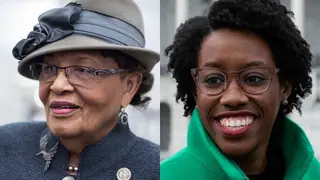 On Tuesday morning, Democratic lawmakers Reps. Lauren Underwood and Alma Adams announced the creation of the Black Maternal Health Caucus.
During the announcement, North Carolina congresswoman Alma Adams (pictured above left) stood with several of her congressional colleagues in front of the Capitol. Adams said the caucus was formed to bring awareness to the maternal death rate among Black women.
"Launching the caucus sends a message that we are very concerned about the disparity as it relates to maternal health and African-American women," Rep. Adams told reporters, according to WTOC. "That African-American women and giving birth and being successful at giving birth and having healthy children is an important issue for this Congress and for our country."
Rep. Underwood (pictured above right) tweeted the caucus was formed to help "elevate" the issue of infant and maternal mortality.
"Though it spends the most $, the US has the worst maternal death rate in the developed world. Rate is nearly 4x worse for black women than white women, even adjusted for education & income. I'm launching the Black Maternal Health Caucus w/ @RepAdams to elevate this important issue," she tweeted.
According to the Centers for Disease Control, Black women are three to four times more likely to experience pregnancy-related deaths than white women. Black Mamas Matter Alliance Co-Director Elizabeth Gay believes legislation from the caucus would greatly help eradicate the issue.
"One of our great hopes is for there to be really strong legislation that would address the variety of issues that black mamas are facing: recognizing and working to eliminate obstetric violence, disrespect, neglect, abuse, mistreatment and ensuring that all black mamas have access to high-quality care," Gay told WTOC.
More than 30 Democratic representatives, including Majority Whip James Clyburn (D-S.C.), have already joined the caucus, according to Politico.
BET has reached out to Underwood and Adams for additional comment.