The Cast Of 'Boomerang': Where Are They Now?
Eddie Murphy, Halle Berry, Chris Rock and more starred in this classic.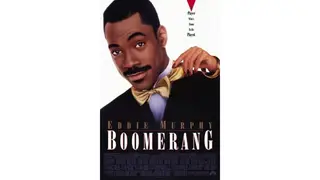 Those looking for proof that Black romantic comedies are commercially viable can go back to 1992 for proof. This week, Boomerang, one of the most beloved Black movies, celebrates its 31st anniversary. Starring comedy great Eddie Murphy, Boomerang grossed over $131 million globally at the box office.
Murphy played the character of Marcus Graham, a successful advertising executive and infamous womanizer. After his company merges with another, Marcus meets his professional and romantic match in Jacqueline, played by Robin Givens. As his work and love life begins to suffer, Marcus sets his sights on Jacqueline's assistant, Angela, played by a then relatively unknown Halle Berry.
Directed by Reginald Hudlin, Boomerang featured many other noteworthy talents, including Martin Lawrence, David Allen Grier, Grace Jones, Eartha Kitt and Tisha Campbell. Not only was the film a success but so was its soundtrack. The album reached the top five of the Billboard 200 chart, and included the number-one hit "End of the Road" by Boyz II Men. The soundtrack also debuted singer Toni Braxton's trademark single "Love Shoulda Brought You Home."
In honor of the film's anniversary, let's take a look where the cast is today.
Eddie Murphy

Eddie Murphy's portrayal of Marcus Graham, a womanizing advertising executive, showcased his comedic brilliance and solidified his status as a leading man in Hollywood. Following Boomerang, Murphy continued his impressive career with hits like The Nutty Professor, Coming to America, and Shrek. He has also received critical acclaim for his dramatic performances in films like Dreamgirls, and Dolemite Is My Name. In 2021, he finally gave fans Coming 2 America -- the sequel. There is also talk of him returning to the stand-up stage.

Halle Berry

This was one of Halle Berry's first big roles and she delivered one of the best lines, "Love should've brought your ass home last night!" Over the next 30 years, she won an Emmy, Golden Globe, and an Oscar.  Most recently, she starred in and directed 2020's Bruised and is also one of the most beloved personalities on social media. 

Grace Jones

The legendary Grace Jones made a memorable appearance in Boomerang as Strangé, an eccentric and enigmatic supermodel. Known for her unique style and captivating stage presence, Jones has had an illustrious career in music, fashion, and acting. At 75 years old, Jones continues pushing boundaries in the entertainment industry and remains an influential figure in popular culture.

Robin Givens

Robin Givens played Jacqueline Broyer, the ambitious and love interest of Marcus Graham. After Boomerang, Givens expanded her acting portfolio and has been involved in philanthropic work and advocacy for domestic violence prevention. She continues to act in both television and film, showcasing her versatility as an actress. Last year, she appeared in A New Diva's Christmas Carol.

Martin Lawrence and David Alan Grier

Martin Lawrence played Tyler, Marcus' best friend and co-worker, providing comic relief throughout the film. Following Boomerang, Lawrence went on to achieve great success as an actor and comedian. He starred in his popular sitcom, Martin, and appeared in hit films such as the Bad Boys franchise and Big Momma's House. Lawrence's comedic talents and engaging performances have solidified his place as one of the industry's most beloved entertainers. He is currently working on Bad Boys 4. 

David Alan Grier played Gerard Jackson, a talented artist and friend of Marcus Graham, in Boomerang. Following the film, Grier continued establishing himself as a versatile actor in comedic and dramatic roles. Recently, he appeared in the series The Carmichael Show and A Series of Unfortunate Events. He has also showcased his talents on stage, earning a Tony nomination for his role in the Broadway musical The Gershwins' Porgy and Bess.

See their famous scene together above.

Chris Rock

Chris Rock had a small but hilarious role as Bony T, a co-worker and friend of Marcus. Rock is a renowned comedian, actor, and writer known for his sharp wit and social commentary. Following his appearance in Boomerang, he became one of the most influential comedians of his generation, releasing acclaimed stand-up specials and hosting the Academy Awards ceremony. This year, he dropped his Netflix special Selective Outrage.

Eartha Kitt

Eartha Kitt, a legendary singer, and actress, portrayed Lady Eloise, a powerful and eccentric businesswoman in Boomerang. Known for her sultry voice and captivating performances, Kitt had a career spanned several decades. After Boomerang, she continued appearing in film and television, including notable roles in The Emperor's New Groove and Holes. Kitt also remained active in her music career, releasing albums and performing in concerts worldwide. Sadly, she passed away in 2008, leaving a legacy as one of the most iconic performers of her time.

See her classic one-liner as Lady Eloise above.

John Witherspoon

John Witherspoon played Mr. Jackson, Gerard's no-nonsense and wise father. Witherspoon was a beloved comedian and actor known for his distinctive voice and hilarious performances. Following the film, he continued to make a mark in the comedy world, appearing in numerous television shows and films. Witherspoon is best known for his iconic role as Willie Jones in the Friday film series, and he also had recurring roles in television shows like The Wayans Bros and The Boondocks. Unfortunately, Witherspoon passed away in 2019 at 77 years old. 

Reginald Hudlin

Reginald Hudlin masterfully directed Boomerang. Following the film's success, Hudlin continued his career as a director, producer, and writer in the entertainment industry. He famously directed Marshall, which focused on the life of Thurgood Marshall, the first African American Supreme Court Justice and starred Chadwick Boseman. Hudlin has also worked on several television projects, including producing the Academy Awards ceremony.