Mo'Nique Clashes With Charlamagne Tha God While Trying To Defend Her Netflix Stance
The comedienne couldn't get past being named "Donkey of the Day."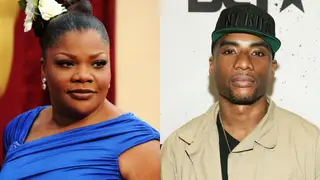 The fervently ongoing controversy involving Mo'Nique and Netflix has finally made its way to Power 105.1's The Breakfast Club, where the iconic comedian shared her thoughts on a range of topics related to the issue at hand with the co-hosts.
While there, however, she, expectedly, butt heads with Charlamagne Tha God, whom she criticized for being a part of the reason she isn't being respected in Hollywood.
During her appearance on the morning radio show, the Oscar-winning actress and comedian — along with her husband, who called in — spoke candidly on the seemingly never-ending dialogue of her low-balled Netflix special offer. 
Before getting to the meat and potatoes of the controversy, however, Mo'Nique immediately set her sights on Charlamagne for his recent comments where he labeled her "Donkey of the Day" in response to her now virally known Netflix boycott.
Needless to say, the bold title didn't sit well with the Precious actress who extensively questioned the co-host's intentions on the decision, with her even proceeding to call him by his government name, in the process.
"Then I come to my folks and I have to be 'Donkey of the Day,' which you still haven't explained Lenard and you're going to have to because when you make those types of statements about your sister to your community," she said while looking into his eyes, "what you're saying to the community is as Black women, you're devalued and if you stand up and you make a stand and you say, 'We need equality' and we have to say what's right and what's fair, and then a brother that looks like me from South Carolina that you're the 'Donkey of the Day,' you have to explain that to the community."
After Charlamagne responded to her query by accusing her of "using racial and gender bias... to focus on something that you're dealing with individually," she went a bit deeper with her critique of him.
"You don't know the history of this business that you're in," she said. "You sit behind this microphone and try to be the guru of Black culture. I'm going to need you to know the history of us before you begin to label us and once you know the history, you know I'm not saying anything unique, brother."
In addition to her extensive debate with Charlamagne, the decorated actress, 50, also addressed rumors regarding her allegedly unpleasant behavior on movie and photo shoot sets and why Black female comics are yet to receive their just due.
Take a look at the full interview, below: