J. Cole Says Female Rappers Are Giving Hip-Hop A 'Lot Of Fire Moments' On Kevin Hart's Podcast
The North Carolina rapper also believes women commercially make the "most exciting" rap.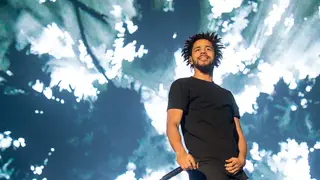 Kevin Hart has quietly collected some of the biggest interviews in hip-hop over the past year or two through his Peacock talk show Hart to Hart.
The actor has already sat down with Jay-Z, Dr. Dre, and now he's speaking with J. Cole, who, like the other two, rarely does interviews, and spoke about the current state of hip-hop. According to the North Carolina rapper, women have been pushing the culture forward.
"I think it's fire," he said when asked about it. "It's a whole different ballgame, you know what I mean? A whole different crop of young superstars and styles... I've been feeling like this for maybe a year or two [and] I hate to say it almost because it sounds almost like pandering, but I really do think, like, man, it's a lot of fire female rappers."
Cole went on to say that women rappers are creating some of "the most exciting" music "commercially" and "giving us a lot of fire moments."
"It was never like that, you always had one... a Lil Kim, a Foxy," he continued. "There could never be more than one, it almost felt like, now it's like, bro, we getting moments and moments and moments. I think that's hard."
The sentiments were part of a trailer for the latest episode of Hart to Hart, which you can view below.