Two More Women Come Forward in Bill Cosby Scandal
Comedian reportedly under criminal investigation in Philadelphia.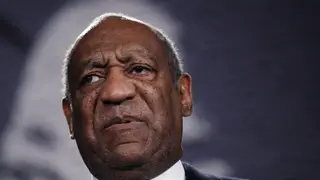 Two more women have come forward, accusing comedian and actor Bill Cosby of sexual misconduct on Friday. According to the People, the women's attorney Gloria Allred said that the number keeps growing, with even more women contacting her, preparing to tell their stories as well.
The two women — one who identified herself as just Dottye, and the other Donna Barrett — now join more than 50 others who have come forward to accuse the former TV dad of sexual misconduct and assault.
According to Dottye's account, she was drugged and raped by Cosby in 1984 when she visited him at a New York City apartment to audition for The Cosby Show. She said she was 30 at the time. "I want people to know, I did not go to the police because at the time, I thought somehow I had let him do what he did," she said. "I didn't protest and I was too embarrassed to tell anyone of this shame I felt. Anyway, he was Bill Cosby. Who would believe me?"
Barrett's story is a little different. She said that back in 2004, she was taking a group photo with her track teammates following a meet at the University of Pennsylvania when Cosby allegedly grabbed her from behind and aggressively pressed his body on hers.
"He had his arm on my waist and forcefully pulled me onto his private area saying, 'Hey, back that thing up here, girl, back it on up!'," she wrote in a statement obtained by People. "I felt his private parts against my backside."
Cosby's attorneys have refused to comment on the ladies' allegations. Cosby, himself, has denied claims made by previous women and he was never criminally charged. Allred has some words for the fallen icon, however, warning him that the pool of victims will only get larger with time.
"I can assure Mr. Cosby, however, that there are still more victims who will be courageous enough to come forward in the future," she said. "As far as I'm concerned, Mr. Cosby is welcome to bring an army of lawyers against one woman. We've waged many David and Goliath battles, and we're prepared to continue our vigorous advocacy for our client."
According to CBS News, Cosby is currently under criminal investigaton in Philadelphia for the alleged 2004 sexual assault.
Take a look at the BET exclusive video below to see Bill Cosby's decline, chronicled:
BET.com is your No. 1 source for Black celebrity news, photos, exclusive videos and all the latest in the world of hip hop and R&B music. 
(Photo: Lucas Jackson / Reuters)