Lawsuit? The Execs of 'The Real' Are Ready to Attack Tamar
The drama isn't over yet.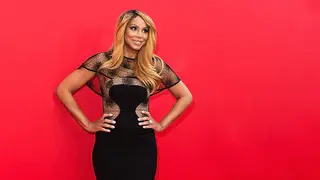 If you thought the drama surrounding Tamar Braxton's firing from The Real was over, think again.
Warner Bros., the show's parent company, has reportedly gotten involved in the mess — and they're calling the singer's bluff when it comes to how everything went down.
According to the Daily Mail, the company is furious that Tamar and her family allegedly staged the latest episode of their WE tv reality series Braxton Family Values to portray the exact moment Tamar found out she was canned.
WE tv reportedly called for an emergency episode of the series and has all of Tamar's sisters join her for the special scene in Los Angeles.
"They reenacted the day that Tamar found out she was fired and staged an entire scene where Tamar is laying in bed crying and declaring that she doesn't know why she was fired, while her sisters attempt to console her," a source, who watched the episode, said.
"Vince declares that the co-hosts were always jealous of Tamar's success and that Loni in particular always had it out for Tamar," the source continued. "Vince helps pass the buck in the episode and fuels that conspiracy that the co-hosts aided in her ouster."
Warner Bros., apparently outraged at the public picture the couple is painting of the situation, has reportedly sent out legal letters to WE tv regarding the episode. In the document, they warn the network that if anything more of the reenactment further damages The Real or goes against Tamar and Vince's non-disclosure agreement, they wil take legal action. 
Take a look at a clip from the episode, below:
Get the latest on Tamar leaving The Real in the BET Breaks video above.