Beyoncé's GMA Announcement Wasn't That Big
Queen Bey shares the benefits of going vegan with Good Morning America.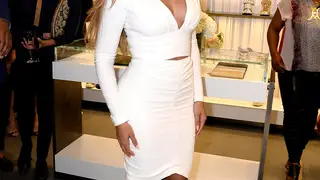 The folks at Good Morning America eagerly teased a "major announcement" by Beyoncé all weekend, and the big reveal was made this morning. With great anticipation, Queen Bey exclusively shared her struggle with weight and triumph through turning to veganism. The music superstar shared tips on how to live — and look — flawlessly.
"This is something I have to share with everyone," she said during the early morning segment. "I am not naturally the thinnest woman. I have curves. I'm proud of my curves and I've struggled since a young age with diets. Finding something that actually works and keeps the weight off has been difficult for me."
Yes, folks. Even the queen of all things perfect has a few obstacles. Proving there's nothing she can't do, 'Yoncé embarked on the 22-day vegan challenge that literally changed her life. Teaming up with her trainer, Marco Borges, the "7/11" songstress released a book and a vegan meal delivery service so that her fans could also reap the benefits of living a healthier lifestyle.
Among the tips the pair shares are choosing plant-based foods over processed foods, exercising for at least 30 minutes each day and, of course, drinking plenty of water. Another tip that may save foodies from unintentionally scooping that tub of ice-cream into their carts is to stay away from the center aisles at the grocery store as that's where they stash all of the processed foods. Instead, stick to the perimeter of the store because that's where all of the fresh fruits and veggies are stored.
Aside from losing weight, Bey explains that she also gained a new healthy "glow" that's hard to achieve, otherwise: "I felt like my skin was really firm — a lot tighter than when I deprived myself of food — and the weight stayed off."
There you have it, folks. Will you be going vegan with Queen Bey?
BET.com is your No. 1 source for Black celebrity news, photos, exclusive videos and all the latest in the world of hip hop and R&B music. 
Click here for a chance to win a trip to the 2015 BET Awards!

(Photo: Frazer Harrison/Getty Images for Giuseppe Zanotti)