The HBCU 104 List: Best Schools to Attend Up Top
Top Historically Black Colleges and Universities to attend in the North.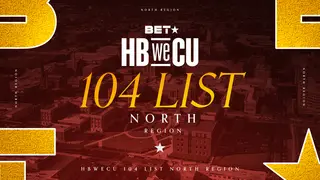 Choosing an HBCU to attend is a big deal. Huge, actually. But before you start the process of filling out applications and writing essays, you've got to get down to the nitty-gritty, like picking a major and what school colors you'll look great in. 
So, what can help you narrow down your selections?
Do you want to spend semesters near a beach or close to a bustling city? Would you rather stay in-state or get your education much farther from home?
From St. Louis to ATL to Philly, The HBCU 104 List highlights the best Historically Black Colleges and Universities to attend in the North, Southeast, Southwest, East, and Midwest. This list will help you identify HBCUs near and far.
First up, here are the HBCUs to attend Up Top!
Cheyney University of Pennsylvania

Location (City, State): Cheyney, Pennsylvania

Student Enrollment: 1,284

Pack your snow boots but be prepared for some of the most beautiful autumn foliage. Founded in 1837, Cheyney University is distinguished as being the oldest historically Black college and university (HBCU) in the United States. Among its notorious alumni, Bayard Rustin stands out as a prominent figure in the civil rights movement, specifically serving as the chief organizer of the historic 1963 March on Washington for Jobs and Freedom. The campus is a treasure for cultural enrichment, hosting a diverse array of events such as lectures, performances, and exhibitions, fostering a vivid academic and cultural atmosphere.

Delaware State University

Location (City, State): Dover, Delaware

Student Enrollment: 10,400

Don't sleep on Delaware, because once the snow melts, you're only a short weekend road trip away from some dope beaches. Delaware State University's (DSU) status as a land-grant institution signifies its mission to offer education and research opportunities in agricultural, engineering, and practical fields, a designation stemming from federal land grants that established such universities across the United States. DSU is known for its alumni achievements, diverse student body, and active community engagement. The university also emphasizes sustainability and offers aviation training. Delaware State University, situated on a sprawling 400-acre campus in Dover, Delaware's capital, boasts state-of-the-art facilities, encompassing academic buildings, dormitories, athletic venues, and cutting-edge research centers. As an active member of the NCAA Division I, the university's athletic teams, known as the Hornets, engage in a diverse range of sports, exemplifying the institution's commitment to both academic excellence and competitive sportsmanship.

Lincoln University

Location (City, State): Lincoln University, Pennsylvania

Student Enrollment: 1,916

Go here and you're just an hour from Philly, home to world-class museums, fire nightlife, and an incredible food scene. Lincoln University, founded in 1854, adopted its name in 1866 to honor President Abraham Lincoln's crucial role in the emancipation and abolition of slavery. The campus proudly houses the Langston Hughes Memorial Library, paying homage to the renowned poet and alumnus Langston Hughes. With a legacy of academic and social progress, Lincoln University notably awarded the first degree to an African-American woman in 1857 and pioneered education degrees. The campus's scenic beauty, featuring historic buildings in a tranquil setting, cultivates an ideal environment for learning and has hosted visits from several U.S. presidents, including Abraham Lincoln and Barack Obama.