BET Awards 2021 Rewind: The DMX Tribute Performers: Then And Now
Get to know Method Man, Busta Rhymes, Swizz Beatz, Michael K. Williams, and Griselda: from day one 'til now.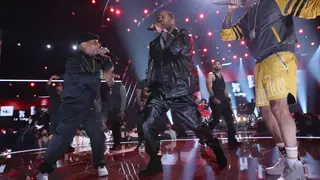 The BET Awards 2021 ended with a powerful celebration of life. The tribute to DMX was a highlight of the show, with powerful performances from Busta Rhymes, Method Man, Swizz Beatz, Griselda, and Michael K. Williams honoring the late rapper. Through his most famous songs, latest record, and spoken word prayer, the tribute was as raw and beautiful as X himself.
The tribute showed the range of X's career and the professional journey he underwent, told through frequent collaborators and friends who knew X since the beginning. The performers have also had long and impressive careers themselves. Keep scrolling and get to know how each of these performers started out and where they are now.
Swizz Beatz

Swizz Beatz, born Kasseem Daoud Dean, started out as a New York DJ who signed with his family's record label, Ruff Ryders Entertainment. Over the past two decades, he's produced hits for top hip hop, pop and R&B artists including Beyonce, Jay-Z, and Kanye West, as well as fellow Ruff Ryders Eve and DMX.

Busta Rhymes

Busta Rhymes, born Trevor George Smith Jr., formed his first rap group, Leaders of the New School, in 1990. His big break came when the group opened for Public Enemy (Chuck D also gave Busta his name during the tour). Busta stayed with LONS until the group broke up on the set of Yo! MTV Raps in 1993. His solo career took off soon after and has gone strong for over two decades.

Method Man

Method Man, born Clifford Smith Jr., got his start in the Wu-Tang Clan in 1992. He stayed with the group while also releasing solo albums and collaborating with artists including Mary J. Blige and Notorious B.I.G. In 1999, while the two were on the Hard Knock Life tour, he joined forces with Redman for their first album. Meth continued making albums while also appearing in films and TV, with his most recent show being Power Book II: Ghost.

Griselda

The hip hop collective Griselda was formed by Westside Gunn in 2012. He, his brother Conway the Machine, and their cousin Benny the Butcher released their first EP Don't Get Scared Now in 2016 and their debut album WWCD in 2019. The group has recently gotten more mainstream recognition, and had their first appearance on late night TV on the Tonight Show with Jimmy Fallon in 2020.

Michael K. Williams

Michael K. Williams started his acting training at the National Black Theatre in New York. After a short period working as a temp, he followed his dream of becoming a backup dancer, and toured with George Michael and Madonna. His acting career started when he was discovered by Tupac Shakur and cast in the film Bullet. His most recent role was in HBO's Lovecraft Country, but he'll never be forgotten for his explosive performance as Omar Little in The Wire.