Duke Volleyball Player Criticizes BYU Coaches, Officials For Slow Response To Racial Slurs During Match
BYU said it banned the fan who allegedly hurled the N-word at Rachel Richardson.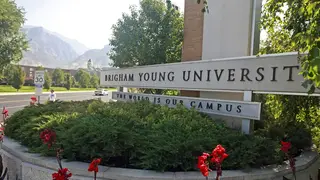 The Duke volleyball player who endured constant racial slurs during a match at BYU criticized officials on Sunday (Aug. 28) who "failed to take the necessary steps" to stop the racist heckler when they were made aware of the situation.
BYU issued an apology the day after the Friday (Aug. 26) match. But Rachel Richardson,19, said BYU coaches and officials failed immediately after the match to adequately address the situation that created an unsafe environment for her and other Black athletes on Duke's team
"No athlete, regardless of their race should ever be subject to such hostile conditions," Richardson, the only Black starter on the team, tweeted.
WFAA reported that Lesa Pamplin, a Tarrant County, Tex., attorney and candidate for a criminal court judgeship, tweeted Saturday (Aug. 27) that her goddaughter Rachel Richardson, was called the N-word every time she served and was threatened by a fan at the team's game in Provo, Utah.
Pamplin also tweeted that Richardson "was threatened by a white male that told her to watch her back going to the team bus. A police officer had to be put by their bench."
"She called immediately after the game when she was on the bus and she was in tears and crying," Richardson's father, Marvin Richardson, told WFAA. "She was distraught, and she was very disturbed by what had happened to her."
BYU said it banned the fan, who was not a student, from all athletic venues on the campus.
"All of God's children deserve love and respect, and BYU Athletics is completely committed to leading out in abandoning attitudes and actions of prejudice of any kind and rooting out racism," it said.
"We wholeheartedly apologize to Duke University and especially its student-athletes competing last night for what they experienced," the statement continued.
Richardson said the fan's racist behavior wasn't representative of BYU athletes and the university's sports director who showed respect and sportsmanship.
While the fan hurled the N-word at her, Richardson said she pressed forward with the match, refusing to give the racist fan a victory.
"Although the heckling eventually took a mental toll on me, I refused to allow it to stop me from doing what I love to do and what I came to BYU to do: which was to play volleyball," Richardson said. "I refused to allow those racist bigots to feel any degree of satisfaction from thinking that their comments had 'gotten to me,' So, I pushed through and finished the game.
The Duke sophomore added that this could be a teachable moment for people who tolerate racism.
"This is an opportunity to dig deep into closed cultures which tolerate amorl racists acts … and change them for the better. It is not enough to indicate that you are not racist, instead you must demonstrate that you are anti-racist," Richardson said.