Mental Health Awareness: Six Ways To Laugh Off The Stress And Find Your Way To Joy Today
Check out these Instagram accounts with Black positivity for your daily dose of healthy distractions.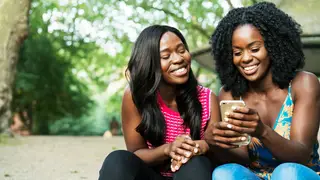 We could all use a break from the bleak headlines and endless press conferences about COVID-19. Though it is important to stay informed, it's also necessary to maintain a balance during work from home life, find ways to relax and be entertained, and relieve bouts of anxiety or even signs of burning out. We've found the easiest and most inexpensive method is a good, old fashioned laugh session.
With May being Mental Health Awareness month, we've compiled a list of Instagram accounts that are full of displays of Black joy that are sure to make you laugh, cackle or at the very least crack a smile.
IG: @SpiceAdams

The Spice Adams Instagram account is run by Anthony Adams, a former NFL player who turned his retirement into a second calling with online comedy bits. He was one of the first to parody Teddy Riley's technical misfires during the Verzuz battle with Babyface causing even Teddy to share in the laughs. He even made a live appearance at one of D-Nice's viral Club Quarantine parties. From jamming out in his car to all your favorite songs to dancing like your cool uncle at the cookout, Adams brings you all the hilarious #BlackJoy you can stomach. 

IG: @BlvckVrchives

So much Black goodness in here! It's basically a national (sometimes Caribbean) photo album and video archive of Black family life. We're talking family reunions, holiday gatherings, spades games, wedding receptions, and all the good stuff you probably miss the most when it comes to hanging with your family. There's everything from adorable historic photo booth shots from 70 years ago to a likely chance of catching a glimpse of some relatives at Freaknik in its heyday. All (Black) love.

IG: @KaaviaJames

Kaavia James is the toddler child of Dwyane Wade and Gabrielle Union. You might be wondering why  you would follow a human who one, is brand new to social media and two, who can only string a couple of words together. The answer is that the adults in Kaavia's life have created a whole online personality for this little one, complete with memes, hilarious captions, and funny videos. The pretend antics Kaavia gets into with her best friend, Shirley and her clique of stuffed animals will have you coming up with your own script in your mind. Her Instagram account also highlights other awesome little girls each week. They are giving her early lessons in sisterly love and it is beyond adorable.

IG: @WillSmith

Will Smith was late to join Instagram (he didn't get on until 2017), but he quickly became the Prince of IG with his funny jokes, motivational tidbits, and behind-the-scenes looks at his quirky family life with Jada and the kids. Since the quarantine has been in full effect, Smith has been (virtually) chopping it up with celebrity friends and adding even more "Did you see that?" moments to his already thick resume of pop culture cred.

IG: @BlkEmilyDickinson

IG: @BlackJoyParade

The Black Joy Parade is an annual event in Oakland that puts (yep, you guessed it) Black joy on the front and center. Though the event showcases creatives, entrepreneurs, and entertainers from the Bay Area, the joy captured in video and pictures on the Instagram account is enough to make anyone break out into a smile and forget their woes, even if just temporarily. Plus, the organizers have put together a fund to help local artists impacted by COVID-19. What if Black collectives all over the country got together to do that? Imagine the joy AND an inspiration spreading through the world. It's something we'd love see.