Here's Why Amber Rose Doesn't Identify as a Black Woman
The talk show host breaks it down.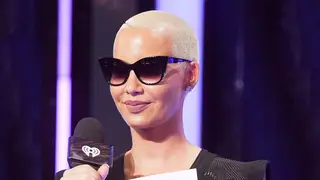 Amber Rose appeared on Refinery 29's "29 Questions" video series to talk all things beauty, sex and...race. While her comments about anal and eyelashes are all in good fun, it's when she starts talking about being multiracial that the record starts to skip.
In the clip, Amber is asked how she feels having her biracial identity often called into question. "It's irritating as f**k," she begins. "Being multiracial, a lot of people expect you to pick and choose a side."
She continues, "I did an interview, and they were like, 'Do you consider yourself a Black woman?' And I was like, 'No!' and the internet cut it off right at that point!" She goes on to say, "I embrace all of my culture. You don't have to pick and choose a side. That's what keeps racism alive."
Watch her response in full, starting at about 2:25, below: