Black Twitter Disturbed By 'Jeopardy!' Contestants Who Have No Clue Who Ketanji Brown Jackson Is
She recently made history as the first Black woman appointed to the Supreme Court.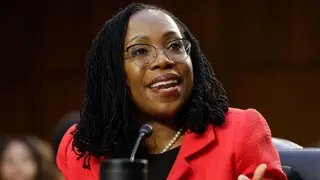 On last night's episode of Jeopardy! Tournament of Champions, the three contestants were stumped when it came to a simple question plucked straight from very recent history.
The clue was: "She's the first Black woman on the Supreme Court & the first justice to have been a federal public defender." Amy Schneider, Tyler Rhode, and Maureen O'Neil had no response and the time ran out.
The answer, of course, is "who is Justice Ketanji Brown Jackson." In April, Jackson became the first Black woman confirmed to the U.S. Supreme Court and the third African American to take a position as an associate justice. Nominated by President Joe Biden, Jackson replaced her mentor, Justice Stephen Breyer.
Black Twitter was mortified by the Jeopardy! contestants, see the reactions below: