In NYC Mayoral Race, Bill de Blasio Rises With Stop-and-Frisk Criticism
Bill de Blasio's campaign for mayor has been boosted by his opposition to stop and frisk, something he says is not a surprise to him.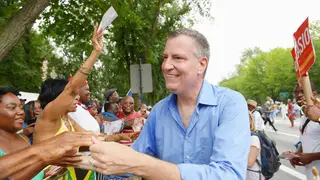 According to several recent polls, Bill de Blasio is the candidate expected to come in first place in next week's Democratic primary for mayor of New York City.
For the former city council member and current New York City public advocate, it is a remarkable ascent to the head of a crowded field that was for so long dominated by City Council Speaker Christine Quinn.
But de Blasio's campaign has been helped by his message of a "Tale of Two Cities," where he depicts working New Yorkers as being forgotten, and his harsh criticism of stop and frisk, the police department program under which millions of young people have been detained in the last few years.
"I have not been surprised by the response of New Yorkers to the issue of stop and frisk," de Blasio said in an interview with BET.com.
"With every passing year, I have talked to more and more people who were affected. For many New Yorkers, it has become a very central issue," he added. "In its most basic context, it's a matter of innocent people who have been stopped although they haven't done anything wrong. It fosters a sense of alienation."
In fact, de Blasio tapped into that feeling of outrage with a campaign ad featuring his 15-year-old son, Dante, who wears a large Afro. In it, de Blasio, whose wife, Chirlane McCray, is Black, discusses his experience as a parent and having to prepare his young son for the day he is stopped by police.
Recent polls have shown that de Blasio may be well positioned to win the Democratic primary outright without a need for a runoff contest. Under New York's election laws, a candidate must win 40 percent or more of the primary ballot to win. If no one wins 40 percent, the top two vote recipients must compete in a runoff next month.
Competing for second-place in the polls are two candidates hoping that de Blasio falls short of the 40 percent mark: William C. Thompson, the former city comptroller and the only African-American candidate, and Quinn, who is white.
The most recent Quinnipiac poll shows de Blasio drawing nearly double the support from African-American voters as Thompson, with 47 percent of Black voters telling pollsters they back de Blasio and compared to 25 percent backing Thompson. That poll also indicated that former congressman Anthony Weiner was far behind, with support of 7 percent of respondents.
Another issue that has garnered support for de Blasio has been his position on gentrification, specifically his insistence on the need to build housing for working-class New Yorkers.
"Our response to gentrification requires a very aggressive plan to build affordable housing and to place it all over the city," de Blasio said. "We need to continue the economic diversity that has been under stress with the economic issues facing the county and the city in recent years."
He started in politics working on David Dinkins' 1989 mayoral campaign and later worked as an aide in the Dinkins administration. In 1997, he was appointed to serve as the regional director for the Department of Housing and Urban Development. He served as campaign manager for Hillary Rodham Clinton's campaign for the United States Senate. In 2001 he was elected to the City Council and in 2009 as public advocate.
Between now and Tuesday's primary, de Blasio said he is focused on one major goal: Taking on efforts to get voters to the polls who are inclined to support him.
"We have a very intense focus on getting out the vote," de Blasio said. "I come out of the world of activism and hope to get the support of people who have worked on progressive causes. We have a lot of work to do."

BET National News - Keep up to date with breaking news stories from around the nation, including headlines from the hip hop and entertainment world. Click here to subscribe to our newsletter. 
(Photo: Michael Loccisano/Getty Images)