He Got Game Premiere
Coney Island, N.Y., and college athletics connect in this harrowing look at one man's dilemma.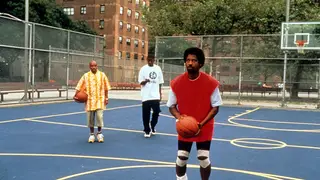 When you're one of the top high school athletes in the country, deciding which college program to choose can be extremely difficult. Enter Jesus Shuttlesworth (Ray Allen), who is stuck in this predicament. Making things even more complicated is the return of his father, Jake (Denzel Washington), who was incarcerated for the accidental death of his mother. Jake has been released temporarily to persuade Jesus to go with Big State's college program, and if he succeeds in convincing Jesus to go, he will have his sentenced reduced. With everyone breathing down his neck, and the memories of his father's crime lingering in front of him each day, Jesus must make a life-changing decision that will effect not only his future, but the future of others.
Also starring Rosario Dawson, John Turturro and Milla Jovovich, and directed by Spike Lee, He Got Game is a dramatic look at the college basketball recruitment process. Tune in Friday, Sept. 7 at 8P/7C for the premiere!