Mississippi Governor Signs Bill Into Law That Bans Critical Race Theory In Schools
Lawmakers in dozens of states have introduced anti-CRT legislation in a GOP political strategy to ignite their base, opponents say.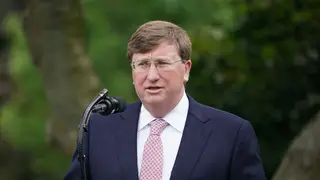 Mississippi has enacted a controversial law that limits classroom lessons on race that opponents warn will whitewash America's history with racism. Many also view the passage of the law in the wider context of a national Republican strategy to flip the U.S. House and Senate to GOP control.
ABC News reports that Gov. Tate Reeves signed the bill, "Critical Race Theory: Prohibit," Monday (March 14) that bans the teaching of Critical Race Theory (CRT), a college-level academic framework to analyze systemic racism but rarely taught in K-12 classrooms.
The new law names CRT in its title but not elsewhere in the legislation, according to ABC. In what opponents view as a misinformation campaign against CRT, the legislation actually bans public education institutions from teaching "that any sex, race, ethnicity, religion or national origin is inherently superior or inferior; or that individuals should be adversely treated on the basis of their sex, race, ethnicity, religion or national origin."
Developed in the 1970s and 80s by the former Harvard Law professor Derrick Bell,  CRT examines how racism is embedded in institutions to protect white dominance, according to The New York Times. It challenges the idea that racism exists only at the individual level. Rather, racism is systemic, across the nation's education, criminal justice and other systems.
"Systematic racism should not be taught to our children," ABC quoted the bill's sponsor, Republican state Sen. Michael McLendon, during debate on the bill.
Gov. Reeves said Monday in a video that CRT makes some (white) students feel guilty about their race and other students (Black) feel victimized, according to the news outlet. Reeves called CRT a progressive ideal that is against "the principles of America's founding."
Opponents of the measure have argued that its vague language could remove historical facts from classroom lessons about racial oppression in Mississippi and the United States.
During legislative debates in January, Black lawmakers walked out of the Mississippi Senate chamber and withheld their votes. The only votes against it came from white Democrats.
"The whole situation of it is based on the founding of this country and some of the precepts that we, as a country, implicitly or explicitly accepted — chief among which we justified slavery because powers that be judged Black people to be racially inferior," Sen. John Horhn said during the January debate.
Mississippi is far from alone. Legislatures in at least 41 states introduced similar anti-CRT bills to limit classroom lessons on America's history of racism, according to ABC.
Indeed, teaching children about the history of racism in the United States has emerged as a political lightning rod that Republicans hope will energize their base in the 2022 midterm elections. As a result, fear is being stirred among white parents that CRT threatens their schools.
In November, Virginia Republican gubernatorial candidate Glenn Youngkin used that strategy to win his election. On the campaign trail, he vowed to ban CRT in schools on his first day in office, Newsweek reported.
After his victory, the GOP signaled that the battle over how to teach about racism in public schools could sweep the party into power in Congress, the Associated Press noted.