Taraji P. Henson on Viola Davis's Emmy Win: 'She Deserved That Award'
She would have loved to have been the one to make history, she admits.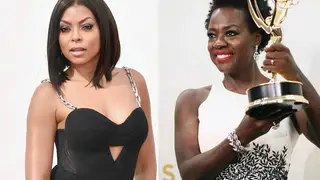 There was no one happier at the Emmy Awards to see Viola Davis take a historic win for Outstanding Actress in a Drama Series than her competitor Taraji P. Henson. Leading up to the awards, Henson said repeatedly that she just hoped one of them made history that night, and was unconcerned about the personal glory. 
Now, two days after the awards and gearing up for the next season of Empire, which premieres tonight, Henson admits to Ellen DeGeneres that part of her wished it was her that won the award.
"It was bittersweet because we all want to make history and be important to society," Henson said. However, she added, "I think the universe is happy. Viola deserved that reward, and, honestly, I would have felt weird if I had gotten it over her. She's been doing it longer and you just have to give respect and know when your time is."
We can always count on Cookie to keep it real. 
Meanwhile, for Viola Davis, making history means answering to a lot of people's questions about race and Hollywood. In the press room of the awards show, a reporter asked Davis to comment on Matt Damon's embarrassing moment of white-splaining diversity to Black producer Effie Brown. Davis said she hadn't seen video of the incident, but offered some general thoughts about where her industry is on race: 
"I just think that people don't know how to discuss race. It's kind of like sexuality...we don't know how to discuss race. It's possible to come together and agree, disagree... I don't know if it's because of the history that we've had that it feels like an indictment if we do that," she says. "But... like Harriett Tubman said, 'I'm always trying to get to that line but I can't seem to no how,' people need to understand that there is a line and it is a difference when it comes to actors of color in this business. It's not an indictment, it just is. I'm very happy about a lot of things that have happened in my career. Are you kidding me? I'm blessed. But if it's been 67 years since an actress of color has won an Emmy, then there certainly has been a line and it needs to be acknowledged, just like the emperor being naked in the room."
Want to hear what Matt Damon thinks of President Obama? Watch our interview with the actor below:
BET.com is your No. 1 source for Black celebrity news, photos, exclusive videos and all the latest in the world of hip hop and R&B music. 
(Photos from left: Alberto E. Rodriguez/Getty Images, Mark Davis/Getty Images)