First Look!: Khloé Kardashian Introduces The World To Her Baby Boy On The Season 2 Premiere Of 'The Kardashians'
Khloé Kardashian and Tristan Thompson welcomed their second child via surrogate on July 28th, 2022.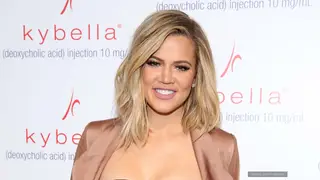 The season 2 premiere of 'The Kardashians' airs today, and the snippet of Khloé Kardashian giving a sneak peek of the birth of her son is circulating the web.
Skims creator, Kim Kardashian, supported her sister at Cedars-Sinai Medical Center in Los Angeles on July 28 as the new bundle of joy arrived via a surrogate. In true Kim fashion, she documented all of the precious moments. Kim said from behind the camera, "Oh, my gosh, he looks just like True!" Khloé later FaceTimed True, her firstborn, four-year-old daughter with NBA star Tristan Thompson. The new big sister couldn't wait to see her new sibling and even gave him the name 'Snowy' despite Khloé's hint that his name starts with a 'T.'
During a confessional, Khloé said, "I am so grateful. It's such a beautiful gift that we're able to have." The Good American co-founder continued, "Ever since December, it's been this dark cloud looming over me. Every single day, I've been feeling depressed and sad, and now that my son is here, I get to move on, and I get to enjoy. It's almost like I get to close that chapter and be done with this trauma and put it behind me."
Khloé revealed earlier in the episode that she struggled with the chaos surrounding Thompson's infidelity because her sole priority was protecting the news around her surrogate's pregnancy.
More than anything, the new mom of two can start the healing process. She also shared, "Now I get to start enjoying my life with two kids in it and figuring this out. This is gonna be day one, and this is gonna be the start of something positive, and happy, and beautiful."
The newest member of the Kardashian gang is said to have lots of hair and is simply perfection. Auntie Kim gave him his first kiss, and the youngest aunt, Kylie Jenner, shared her excitement about her baby boy having a "forever friend" in his new cousin.
As the episode concludes, Thompson visits his newborn, which is his fourth child. Khloé went back in forth on whether to allow her estranged boyfriend in the room but ultimately decided that he should be there. She explained, "Let him come. He'll never get this moment back."