Ex-Prisoner Takes Seat In New York State Assembly, For First Time
Newly-Elected Assemblyman Eddie Gibbs served time behind bars but turned his life around.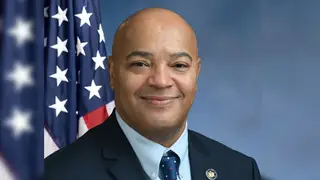 A newly-minted New York state Assembly member has made the most of his second chance in life.
On Feb. 10, Harlem native Eddie Gibbs was sworn into office as an Assemblyman by Mayor Eric Adams, making Gibbs the first formerly incarcerated member of the state's legislature, The New York Daily News reports.
Gibbs, 53, won a landslide victory in a January special election. He now represents residents of New York's 68th Assembly District, which includes East and Central Harlem, as well as another part of the city's Upper East Side.
He grew up in an East Harlem public housing in the 1980s, in the midst of gang wars over control of territory in the crack cocaine drug wars and escalating violence.
According to Reuters, Gibbs recalled that a man attacked him in an elevator, stabbing Gibbs in the leg in an attempted robbery. The assailant forced Gibbs, 17 at the time, to open a safe in his family's apartment. Gibbs retrieved a gun from the safe and fatally shot the man.
In 1988, he followed his public defender's advice and pleaded guilty to manslaughter, and was sentenced to four years in state prison for what Gibbs said was an act of self-defense.
But his story didn't end there. He spent his time earning an associate's degree in business while incarcerated. After serving his sentence, Gibbs returned to his community and "dedicated himself to creating positive change," according to his Assembly bio page. Before joining the state legislature, Gibbs served his community as a District Leader, an unpaid elected post, local station  NY1 reported.
His experiences instilled a passion to "make sure that everyone has chances in life right from the start, free from violence and poverty." He hopes his story inspires formerly incarcerated individuals.
"You know, we have a ton of ex-offenders and formerly incarcerated individuals out there, and I'm hoping to be that inspiration to show them that, hey, you can turn your life around. You can come home and get a job. You can come home and serve your community," NY1 quoted Gibbs.