Charlamagne Tha God "Hoped" For A Better Ending To The Wendy Williams Show
He wanted Wendy Williams to "go out" on her own terms.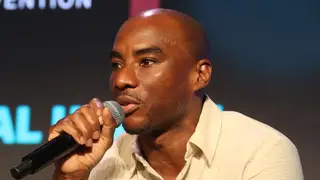 Charlamagne Tha God is speaking out about his former boss Wendy Williams and how he says he was "hoping" for a better ending to her daytime talk show.
BET.com previously reported that Williams herself made it clear that she was dissatisfied the way her eponymous talk show concluded, particularly because Williams said she "wasn't asked" to appear on the finale of her hit show.
"[Debmar-Mercury] didn't ask me to do that, so I didn't. I sat in my apartment and I watched it. And [I was] like, 'Eek!," she said.
"Debmar-Mercury, in my opinion, should have done it with [me], not these other people on 'The Wendy Williams Show except for Fat Joe."
Charlamagne is adding to the conversation and said to Daily Pop he wanted to see her "go out healthy on her own terms."
"I just hate the fact that she—I don't want to say going out this way because we don't know if it's the end," Charlamagne said on the show.
"But I would hope that this is not the ending. I would hope that she gets healthy and gets to bounce back and bow out the way she wants to."
He gives Williams her props, calling her "one of the most successful media personalities of all time." Charlamagne continued, "not just from radio, but to make the transition to television and do 13 seasons of a daytime talk show as a Black woman, that's big."