Drake Admits to Occasional Drug Use
Drake cops to drinking codeine and smoking marijuana to help cope with fame.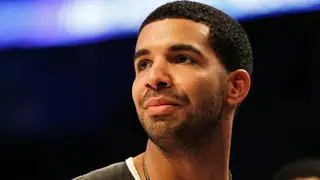 Since breaking into the music industry in 2009 with his critically acclaimed mixtape, So Far Gone, Drake has always expressed issues dealing with his newfound celebrity. It's a recurring theme in his chart-topping music and something he openly discusses in interviews.
In a recent chat with The Guardian, the Toronto-bred rap star candidly admits to using drugs and drinking as a means to deal with the expectations of his rising stardom.
"Have I sipped codeine before?" asked the Young Money rapper. "Yeah, of course. Have I smoked weed? Yes. Do I drink wine? Yes."
Not to give fans the wrong idea, as if he were confessing to a substance abuse problem, Drake clarified his explanation.
"But do I do it excessively? No. I'm not a reckless guy. I do it all within moderation."
"I'm not into drugs," he added. "I mean any outside the ones I just mentioned. Nah, that's not me. I care too much about what I have. I'm not going to throw it away for that."
After the success of So Far Gone, a multi-platinum debut, Thank Me Later, and riding the current wave of his sophomore album Take Care, Drake has more than enough reasons to stay on the right track.
BET.com is your #1 source for Black celebrity news, photos, exclusive videos and all the latest in the world of hip hop and R&B music.