Hot Couple Alert: Is Odell Beckham Jr. Dating the Weeknd's Ex, Model Bella Hadid?
Here's what one report is saying about the Giants' wide receiver.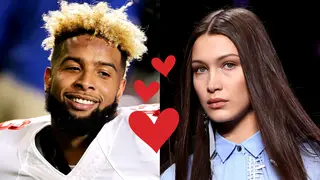 A source for TerezOwens.com is reporting that the New York Giants' star wide receiver and supermodel Bella Hadid have been dating since her split with the Canadian singer and were even spotted together at the UFC 205 pay-per-view event at Madison Square Garden in New York City this past Saturday night.
"Odell and Bella have just clicked. They had known each other before, but once she split from the Weeknd, Odell reached out instantly," the insider source told the website. "They really enjoy each other's company."
If you're keeping track of Beckham this 2016 NFL season, he's doing his damn thing with 773 receiving yards and six touchdowns, having recently broken Randy Moss's league record for most receiving yards in his first two seasons.
So, one could say that OBJ is scoring touchdowns on and off the field.
Like him and Bella as a new hot couple?
BET Sports News — Get the latest news and information about African-Americans in sports, including weekly recaps, celebrity news and photos of your favorite Black athletes.