Watch: Carmelo Anthony Makes Emotional Speech After Team USA Wins the Gold
Both the mens and women's teams rose to the top in Rio.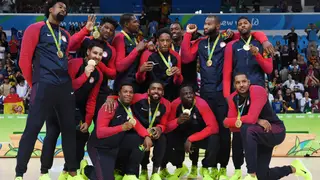 The United States men's basketball team made history on Sunday when they won their third straight Olympic gold medal, beating Serbia 96-66.
While the team was a who's who of NBA stars, the young corps was lead by veteran, and future hall of famer Carmelo Anthony. After the game, the Baltimore native spoke with tears in his eyes. "I know this is the end. This is it for me. I committed to something … I committed to this in '04. I've seen the worst, and I've seen the best. And I stuck with it. We stuck with it. And I'm here today, three gold medals later. I'm excited for me but also for the other guys who never experienced anything like this," he said. "Coach K, myself, Jerry Colangelo and everybody else who have been a part of this situation — who have been a part of USAB since I've been here."
Anthony continued, "I just want to say thank you for allowing me to be one of the leaders — not just of our team but of our country. Despite of everything that's going on right now in our country, we gotta be united. I'm glad I did what I did, I stepped up to the challenge. This is what it's about. Representing our country on the biggest stage that you can be on. America will be great again. I believe that. We got a lot of work to do. It's one step at a time. I'm glad we represented in the fashion that we did." 
With the win, Melo became the first U.S. men's basketball player to ever win three Olympic gold medals, an incredible feat considering the monumental stars that have played on the team throughout the years.
Many of the sport's biggest stars took to Twitter to congratulate the team on their dominant path to the gold, as did Melo's ever-supportive wife LaLa Anthony.
The men's team was not the only U.S. basketball team to win a gold medal this weekend when the women's team brought home their sixth straight gold medal. 
This Olympics has been an incredible success for not only the United States' basketball teams but for many athletes, as the United States won the medal race convincingly with 121 medal total and 46 gold medals.
Tonight the athletes will say goodbye to the millions of supporters during Sunday night's closing ceremony, and like both U.S. basketball teams, many of those athletes will be saying goodbye as champions.