EXCLUSIVE: Skai Jackson Refuses to Be a Bullying Victim
This princess of "classy clapback" is dropping gems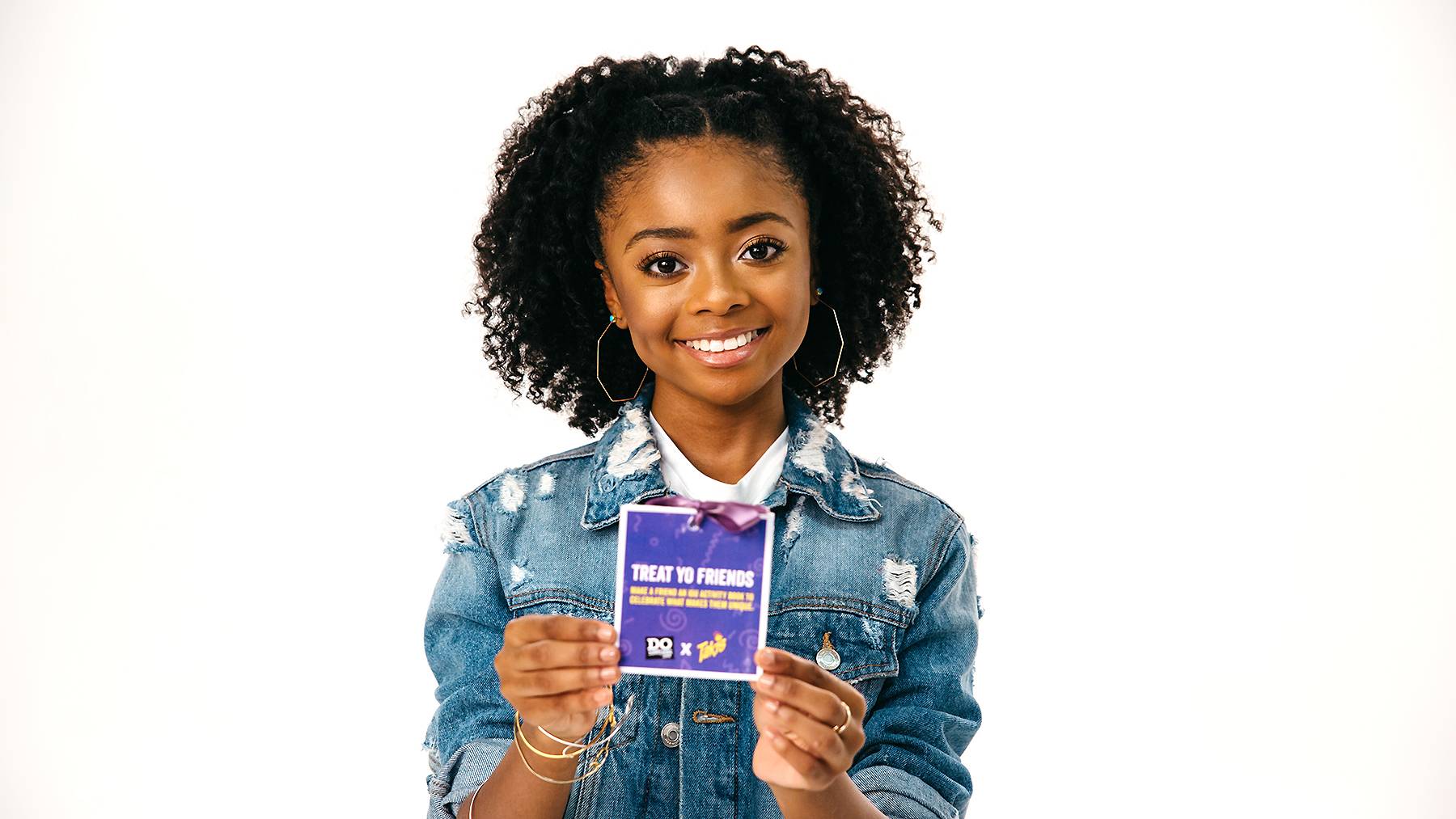 Disney Channel actress Skai Jackson is much more than an adorable face, warm smile and well-spoken talented youth. This fifteen-year-old powerhouse is using her platform to make a difference in the world of bullying as the face of a new campaign, "Treat Yo Friends," for DoSomething.org — and we totally support it!
This July, DoSomething.org and Takis launched a national campaign, "Treat Yo Friends," with Skai Jackson as the face to help young people combat social isolation by facilitating pathways to confidence building and higher self-esteem for their friends with fun IOU activity booklets filled with fun and creative activities.
The campaign also addresses the overarching fact that one in four young people are bullied in some way. As you may know, bullying is a serious thing — even celebrities experience it!
We were able to catch up with the busy young lady to talk bullying, how she blocks out the haters and some advice from Skai about how she would recommend dealing with bullying. Read the interview below:
BET: Congratulations on being the face of the new anti-bullying campaign from DoSomething.org, "Treat Yo Friends." How did you know that you had to be a part of this movement?
Skai Jackson: I've always seen the DoSomething.org campaigns and, for me, I was already an advocate for anti-bullying on social media, so I was waiting for the perfect time to have a campaign like this. I immediately wanted to do it, because I thought it would be perfect for me.
B: Why do you think DoSomething.org is important?
SJ: I think DoSomething.org is important because they are starting a movement of stopping bullying and it is very empowering and I love what they stand for. That's one reason why I also wanted to do it. I think they have a great message and taking down bullying is one of the things I stand for and one of the things that needs to happen.
B: Unfortunately, you were once bullied on social media by Azealia Banks. Did this play a part in why you felt you needed to help other youth?
SJ: Yeah! I felt like I had to help other youth because I've been bullied before on social media. I started at nine years old on Instagram and Twitter. I didn't know at first that I would get so much hate for doing what I loved and posting pictures. So for me, taking a stand for others who are being bullied, if I feel like it was not right and I can voice my opinion, I will do so.
B: Was this the first time you were bullied?
SJ: I was bullied a little bit at school. It wasn't really that bad. Kids would call me names for no reason. It wasn't full out bullying like I would see on social media.
B: Do you think that social media plays a huge part in offering a platform for bullying?
SJ: I would definitely say so because there are millions of people on social media and you don't know what they look like and it seems like they feel, "Oh, so I didn't see you in person, I can type whatever I want to type." And that's it! It's on there forever. I know people were bullied but not as much as on social media because you had to see them face-to-face. There are millions of people on social media and it seems like a place people seem to bully often.
B: You seem to have a positive spirit. Why do you think you were a victim of bullying in the first place?
SJ: I feel like I was a victim of bullying because people hate on other people who are doing great in their lives — or are just mad for no reason. That's something I honestly don't get! I think we should support each other, no matter what. It is very unfortunate people do feel the need to do so [bully]. I've been on social media for a long time now, so I don't let anyone's hateful words get to me anymore.
B: If someone came to you to ask for advice with bullying, what would be your guidance?  
SJ: If someone asked me for advice, I would probably say, it's not going to last forever. It's going to be hard at first. It's hard for a lot of people but just act like you don't care because if you act like you don't care, the bullying may stop or the bully might think, "This person is not feeding into my drama." Ignore them. If you're on social media, block them! Disable your comments. These tools are there for a reason and those are some things I use for myself.
B: How does it feel to be such a huge role model to the youth at such a young age?
SJ: It feels great to be known as a role model! It's a huge responsibility, but a great one at the same time. Just knowing that so many people look up to me and support me is amazing!
We are very proud of Skai, as she is a great example of #BlackGirlMagic!
As for what's in the celebrity teenager's IOU activity booklet for giving to her friends? "Hiking, beach and hanging out more, more charity!" While she is taking on the world of bullying and encouraging others to do the same, she's still a teenage girl after all.
To learn more about the new "Treat Yo Friends" campaign for DoSomething.org, which aims to help combat social isolation and bullying, visit: DoSomething.org
From July 1 through August 31, people can participate in the national campaign by signing up at DoSomething.org/friends or by texting FRIENDS to 38383. Those who send a picture of themselves and their friends holding their IOU booklets and doing fun activities together will br entered for a chance to win one of five $5,000 scholarships.