Bow Wow Seemed Pretty Salty On Twitter After Finding Out Future Was Dating His Ex
"Sucker."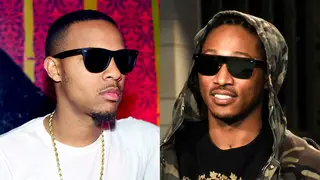 Rumors have been swirling over the last couple of weeks that the trap star is dating Joie Chavis, Bow Wow's ex and the mother of his daughter Shai. Although the reports haven't been confirmed, the two were spotted celebrating Chavis' birthday together, which prompted a very shady message from Bow. It seems the rapper wasn't too happy about the alleged new relationship and  took to Twitter to fire some subliminal shots.
Chavis and Future were caught sharing an intimate moment on video during her birthday dinner on Sept. 27. After the "Mask Off" rapper gifted her with a brand new Rolex, Chavis reciprocated the love with a little kiss. The two also looked pretty smitten with one another in various pics taken throughout the night.
But Bow Wow must have seen that smooch, along with the quiet chatter on social media, because it wasn't long before he posted a message that seemed like a response. "Had your girl in the islands 'and you aint een know it' but she kissing you with the same mouth... never mind hahaha #sucker," he tweeted.
Future and Bow Wow seem to have similar tastes. Besides Chavis, Future dated another one of the Roll Bounce actor's ex-girlfriends, Ciara, whom Future has one son with. So Bow Wow may be a little tired of Future taking his old flames.