Black Farmers Association President Says Food Shortage Is Near, Warns Biden
'We're going to see empty food shelves in the coming months,' BFA head John Boyd predicts.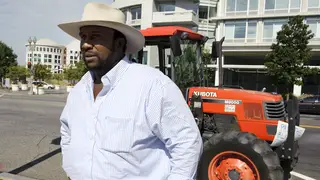 Black farmers are sounding an alarm that Americans will soon find grocery store shelves empty if the federal government fails to intervene.
"You have the high cost of fuel, the high cost of fertilizer and lime and all of these upfront costs for America's farmers, and we haven't done anything in place to fix that," National Black Farmers Association President John Boyd, Jr. told Fox News' "Fox & Friends First" on Wednesday (July 20), adding that the Biden administration hasn't followed up with his request for a meeting.
Boyd predicted that "we're going to see empty food shelves in the coming months" from a combination of American farmers unable to afford the costs of producing crops and shortages of commodity production, like corn and wheat, from places like war-ravaged Ukraine.
In May, the White House unveiled a plan to assist farmers and prevent food shortages. The plan includes cutting costs for farmers by increasing technical assistance for technology-driven "precision agriculture" and increasing funding for domestic fertilizer production.
The high price of fuel is a major obstacle to food production at home and abroad. According to Reuters, Ukraine was the world's fourth largest grain exporter last season, but a sharp cut of 85 percent in fuel supplies after the Russian invasion has created a global food shortage that has impacted Africa.
Meanwhile, the increasing cost of diesel fuel in the United States has added a financial burden on farmers, South Carolina station WPDE reports. Many farmers have "struggled to break even" this year because of fuel costs, Shelby Myers, an economist with the American Farm Bureau Federation, told WPDE. That extra cost of doing business will likely be passed on to consumers.
As a part of its strategy to ease the struggle, the administration announced that it would allow E15 gasoline—gasoline that uses a 15 percent ethanol blend—to be sold this summer.
Fox News host Todd Piro noted during the interview that the cost of fertilizer has nearly tripled over the past year. Boyd said last year he paid $400 per ton for fertilizer. The cost increased to $1,100 per ton this year.
"The administration hasn't put things in place to help us," Boyd stated. "The administration isn't talking enough about the plight of what's going on with Americans. We're losing farmers every year that we don't take action, and that's going to help, but it's going to hurt us here at home."