BP Employee Fired After Reportedly Telling Black Woman 'We Usually Charge N****rs More' And Trying To Overcharge Her Brother
Rachel Sherman and activists are now calling for a boycott of the gas station.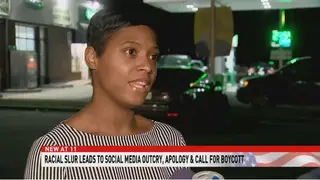 A resident of Prince George's County, MD, and other members of the community are pushing for a boycott of a BP gas station after an employee used a racial slur. 
Last Thursday, Rachel Sherman was at a BP service station in Largo questioning an employee about the cost of vehicle inspections. Sherman said the employee was trying to overcharge her brother, reported WJLA.
"My brother called me and said well the guy is telling me it's 100 dollars and it's cash only I said that didn't sound right," Sherman told the news station.
The cost of inspection is normally $30.
"And as I turned to walk away, his exact words to me were 'And we usually charge n****rs more,'" Sherman added.
Right after the racial slur was hurled, Sherman discussed her experience in a video that she shared on Facebook. The viral video has been viewed more than half a million times, and Sherman is gaining support from her community.
"And to see the entire community come behind me and say we are not going to let this happen to you or anybody else, it empowered me," Sherman said.
The day after the incident, the employee was fired.
Now Sherman and local activists such as LaTasha Ward have called for a boycott of this business.
"People are just tired of it," Ward told WJLA. "We would like to be able to shop and support people's business but we want good customer service as well."
Sherman and Ward hope this BP takes a more active role in supporting the community that gives them business.
"My biggest hope was to send a message to not only this gas station but to other businesses in this community that don't value us, any minority or any customer," Sherman said. "We want to see that they want to be a part of this community and that they value the customers here. I'm not sure how they can do that from a business standpoint but we need to see more progress."