For Young Devyn, The Rap Game Is All Blessings – And She's Got Next
The teenage rapper shines at the BET cypher, and she's coming for more.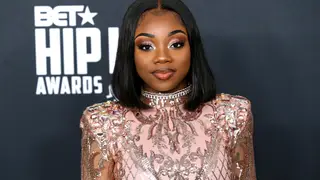 "As an artist, I don't really do gimmicks or do anything for clout."
Authentic. Confident. Driven. Young Devyn was born with an affinity for music, even before she had any interest in the art form. Her own mother said she was "born humming to her own heartbeat."
The shy Brooklyn rapper had no dreams of becoming an entertainer. Walking the 2019 BET Hip Hop Awards red carpet and performing in the illustrious cypher was nowhere near her thoughts when she practically fell into music over 10 years ago. At the age of five she was asked to sing the school song at her "Step Up Ceremony." Turns out she was good, and so it began. 
The youngest artist to perform at the BET Hip Hop Awards Cypher, this past weekend Young Devyn shared the stage with Bandhunta Izzy, Dae Jones and Jazz Anderson. And as the saying goes, she decimated everyone in her path. 
The platform for her may be new, but her prowess isn't. Even at 13, Young Devyn was selling out shows as a headliner. The young artist was already making a name for herself as a soca prodigy, sharing stages with artists such as Lyrical and Machel Montano. After six years of only singing, Young Devyn ventured into the rap game in 2016. It was a documentary on Nicki Minaj that inspired her to rhyme. 
"I never had any intentions of rapping, ever in life," she said. 
But the connection she felt to Minaj and her story was strong enough to make her want to explore the genre herself and express some of the things she was keeping inside. Equipped with a new computer and teaching herself how to record, her "Freestyle Friday" weekly Instagram videos gained her new fans and began to secure Young Devyn's place as a promising MC.
"Somebody said I'm not gonna make it 'cause I'm way too clean," she rapped on Sway's "Doomsday Cypher" two years later. By then, the industry was taking note, and celebrities such as Taraji P. Henson, and Nicki Minaj herself, were showing their approval on social media. 
She's entering the game on a different level, and she knows it. In an industry where lyrical content is often explicit and sexually charged, Young Devyn's clean lyrics are authentic to her as a person, and there is no sign of that changing anytime soon. 
"I feel like this also tests my lyricism as well," she said. "The fact that I'm able to get my point across the same way and not be able to curse or have to use any type of explicit content, and I still have the same type of bars and I leave the same impact [as other MCs], it just pushes my pen as a writer, so I have no problem with it."
Being raised in a religious, Trinidadian household may have something to do with that. Young Devyn said her mother was adamant about keeping her innocence as a child intact, despite coming up in a very adult environment. Yet, while she comes from a "church background," Young Devyn always had her family's full support.
"A lot of people may not look at [rap] that way, but I look at it as a spiritual thing for me," she said. "When I write, after every song, after every rap, I pray about it, and before I write my raps, I pray about it." 
She has a somewhat typical background for a hip-hop artist where she's lost friends to the streets, cut family ties and came from humble beginnings in East New York, Brooklyn, where she grew up with her older brother in a single-parent home. 
But she's different: "I don't just rap."
On Nov. 1, the soon-to-be 18-year-old will release her first official much-anticipated single, and by the end of the year the world will likely experience the full gamut of Young Devyn's range of musical abilities in her new album, which will include both hip-hop and Caribbean-influenced tracks.
The young artist is also planning to head to college next January, opting to stay in New York and study business marketing, a solid entrepreneurial move for the #babygoat with big plans. As she continues to position herself to inspire those who come after her, Young Devyn will never forget that the cypher brought her here:
"Even though I was on the red carpet, I still felt like I didn't belong… until I saw myself on the cypher."