Jackson Mayor Says Federal Infrastructure Funding Is 'Insufficient' To Address Water System Problems In City
Chokwe Antar Lumumba's comments come after Mississippi Gov. Tate Reeves declared a state of emergency last month for the mostly Black city.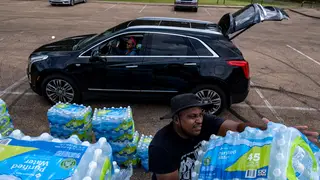 Jackson, Miss. mayor Chokwe Antar Lumumba said the federal infrastructure funding his city received is "insufficient" to address "30 years of deferred maintenance and accumulated challenges" in regards with the city's water system.
During a Sunday (Sept. 11), interview with CBS News' Face the Nation, Lumumba was asked about the $42 million from the American Rescue Plan Act (ARPA) Jackson was provided last year and the importance of preventing a recurrence of the water crisis in cities like Jackson and Flint, Mich., that President Biden stressed upon signing the bill.
"We have committed the grand majority of our ARPA funds towards our infrastructure, not only at the water treatment facility, but distribution lines," Lumumba told moderator Margaret Brennan. "We've spent $8 million on one pipe alone to South Jackson, which is disproportionately affected. It is also critical for people to know that the city of Jackson didn't get $42 million at one time, merely a little over a month ago, we got our second tranche of the funds."
Lumumba says his administration is committing the "overwhelming majority" of the city's funding to address the current water crisis.
"However, it is insufficient to meet the great need of 30 years of deferred maintenance and accumulated challenges," he added. "And so it will take a coordinated effort on not only the local state, but federal levels as well."
Last month, Mississippi Gov. Tate Reeves declared a state of emergency for parts of the state, including Jackson, that were hit by major flooding. Subsequently. The city's 150,000 residents were left without safe drinking and cooking water.
Jackson's population is about 83 percent Black, according to the U.S. Census Bureau. For decades, city officials couldn't afford to make timely repairs to the water system as the tax base eroded from white flight to the suburbs when public school integration started in 1970. Today, about 25 percent of the residents live in poverty.
In July, prior to this current crisis, officials warned Jackson residents to boil their water for safety reasons. Over the years, residents faced concerns about high lead levels in their water, and frigid temperatures have left them without water for weeks.
Watch the full interview segment below.