Watch: Details Behind 'Clock Boy' Ahmed Mohamed's Lawsuit Against Texas City
Accusing him of terrorism jeopardized his home and safety.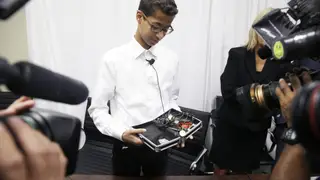 Ahmed Mohamed, the teen who was arrested nearly a year ago at a Texas school when his teachers mistook his homemade clock for a bomb, is now filing a lawsuit with his family against his former hometown of Irving.
When the Mohamed family first moved to Texas, Ahmed always felt as if he was being singled out for being a Muslim. Last September, Mohamed made a clock using leftover electronics parts and brought it to school to show his teachers.
He showed his engineering teacher, who thought it was impressive but encouraged him to keep it out of sight. Later on in the day, the clock started to beep during a different class. When Ahmed showed the clock to his English teacher, she took him to school officials and contacted the police. The school claimed they believed that the clock was a bomb.
Ahmed was arrested at his school and publicly shamed; however, when the story became a national headline, many showed their support to Ahmed and his family. President Obama even invited Ahmed to the White House with the clock that he made. It appeared that the national attention would smooth out the tensions between Ahmed and his school; however, it actually caused more issues and eventually forced the family to move to Qatar.
This week, the Mohamed family visited Texas and held a press conference to discuss their lawsuit. During the talk, Ahmed opened up about the difficulties he has had to face because of the unfair judgment his school made.
"I have lost a lot of things. I lost my home, I lost my creativity because before I used to love building things but now I can't. I lost my security," Ahmed said during Monday's news conference. "For the safety of my family, I have to go back to Qatar, because right now it's not very safe for my family or for anyone who's a minority. I can't walk out of the house without being covered up because I might get shot because that happens here. I really love the States. It's my home. But I couldn't stay. I get death threats."
The city of Irving continues to defend the actions made by the school, and although they have not yet been served a lawsuit, they claim they are "prepared to vigorously defend itself and the justifiable actions it took in this matter. The legal process will allow all facts to be revealed, and the city welcomes that opportunity."