Boris Kodjoe is on The Mend After Back Surgery
The actor shared an update on his health on social media.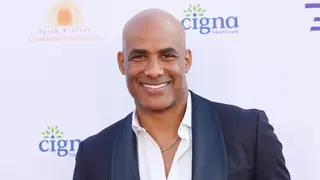 Boris Kodjoe is taking it easy these days as he puts his health first.
After sharing an intimate post on Friday (August 18) while lying in a hospital bed, the Station 19 actor shared with his followers on Instagram that he was admitted for an "impacted sciatic" that resulted in him needing surgery. On Sunday (August 20), he shared an update on his health in a post on the same platform.
With the entire house to himself— his wife Nicole Ari Parker, and kids Nicolas and Sophie weren't home– he made it a day to relax and unwind with his canine best friends.
In each photo, the father of two captures sweet moments of himself with his adorable dogs, which feature the fur babies lounging in the grass in one frame. Another image features a picture-perfect snap of him with a sweet brown Terrier as they cuddle together on the sofa. "Where my dawgs at?" he captioned the post.
"When Teddy and Max greet you at the door because your wife's in rehearsals in NY, your daughter's in school in DC and your son's at practice." he continued.
Since sharing his medical condition a few days ago, friends and fans have showered the star with love. "Thank you all for your love and well wishes. I'm resting and healing. ❤️🙏🏾😊," he added of his appreciation.
On Friday, Kodjoe revealed he was preparing to have a double laminectomy on two levels of his back after having the same surgery a decade prior in different areas. "Then this happened. Had a partial laminectomy in two places, a back surgery I had in two other vertebrae ten years ago."
According to the National Library of Medicine, a laminectomy is a surgery to remove the lamina, a part of the bone that makes up a vertebra in the spine. It can help to remove pressure from the spinal nerves and cord. It can also be used to remove bone spurs or a herniated disk in your spine.
He added, "Thank you, Dr Watkins Jr @thebackdoctorapp and his amazing staff ❤️ for taking good care of me. Now I gotta rest and heal, then PT for a couple of weeks."