David Ortiz's Hall Of Fame Entrance Speech Will Make Your Day
Big Papi was in classic form as he was inducted into the Baseball Hall of Fame in Cooperstown, N.Y.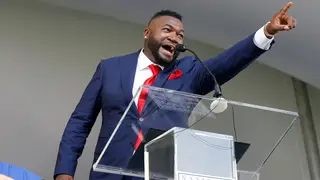 David Ortiz, no question, was one of the greatest sluggers of his generation.
Through his 20-year career, the Boston Red Sox designated hitter clocked 541 home runs, won seven Silver Slugger Awards and helped the Sox win their first World Series in 86 years in 2004.
Inducted along with Tony Oliva, Jim Kaat, as well as the late Bud Fowler, Gil Hodges, Minnie Miñoso and Buck O'Neil, the 10-time All-Star was in classic form – a mix of humor and gratitude that made him a fan favorite over the years.
The Dominican Republic native alternated between English and Spanish during his induction speech and thanked his faith and family for his foundation.
"I've been thinking about how I got to this stage, Cooperstown, today. I've been thinking about my life, my career, and most of all, the people that believed in me," he said. "I've also been thinking about the lesson I've been taking from their support about the power that we all have to make a possible difference in this world."
Ortiz then thanked the United States for welcoming him with open arms when he was younger, allowing him to play in the major leagues.
"And to all my American friends, consider this an open invitation to visit my island, the Dominican Republic. It's a special place," Ortiz said. "We have a lot of good and happy people, beautiful beaches where you can go when you guys are freezing here."
When it comes to baseball, more specifically, Ortiz credited a number of coaches, including Dave Jauss, a winter league coach in the DR who would later be reunited with Ortiz in Boston as an advance scout from 2003-05.
"He always used to tell us, 'You have to go hard, can't take things for granted,'" he noted. "He was hard on me, but I know he was coming from a good place. On the last day of the season, he told me, 'The reason why I was so hard on you is because of all the players here, I think you are the one that can have an amazing career in the big leagues. Go and get it, big boy.'"
Spending 14 years in Boston (his longest stint with any team), Ortiz thanked the owners and front-office who brought him to the city.
"That organization made me the man that I am today," he said. "They educate me about the game, but they also educate me about my life. Community service, connecting with people, the Jimmy Fund, the Children's Fund. That's why I started the David Ortiz Children's Fund that help provide life-saving heart surgery."
Finally, Big Papi recalled his final at-bat at Fenway Park, saying he felt that all of New England was there to witness it.
"It's been almost 20 years since my first day in Boston. We have some incredible memories," he said. "When I think about Boston, I definitely think about 2004, 2007 and of course 2013, after the city was shaken by the Marathon bombing, I have never seen a community bounce back and reunite like Boston."
Ortiz concluded: "I always try to live my life in a way that supports others. That make a positive influence in the world. And if my story can remind [you] of anything, let it remind you that when you believe in someone, you can change their world. You can change their future. Just like so many people who believed in me. To everyone that believed in me, from my family to coaches to teammates to fans, know I could not have done this without you. My Hall of Fame plaque represents each one of you, and I'm going to thank you guys for the rest of my life."