Why Being 'Un-Rape-able' Is Not an Actual Thing
Damon Wayans can have several seats for his recent comments on sexual assault.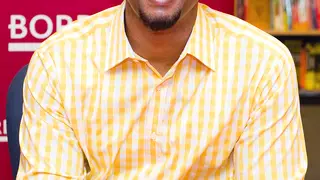 Over the weekend on Power 105.1's The Breakfast Club, comedian Damon Wayans had some insane comments about Bill Cosby's accusers. Somehow from talking about co-creating the '90s hit In Living Color and being fired from Saturday Night Live, he took the conversation to a whole other level when sounding off about the 50 plus women who have accused the billionaire comedian of raping them.
Wayans told the show's hosts the women were out for money, insinuating that they "waited too long" to come forward and that they were not attractive enough to be assaulted:
"If I was him, I would divorce my wife, wink-wink, give her all my money and then I would go do a deposition," he said in the interview. "I would light one of them three-hour cigars. I'd have some wine and maybe a Quaalude, and I would just go off, because I don't believe that he was raping.
"How big is his penis that it gives you amnesia for 40 years?" Wayans continued. "If you listen to them talk, they go, 'Well, the first time ...' The first time? B***h, how many times did it happen? Just listen to what they're saying and some of them really are unrapeable. I look at them and go, 'You don't want that. Get outta here.'"
Yes, he is doing the absolute most. And sadly, I am not surprised. This is rape culture at itss finest with men and women doing and saying anything to protect and rally around men at the expense of women.
But what takes me over the edge is Wayans's claim that women can be "un-rape-able." Rape against women has nothing to do with perceived attractiveness, because once again rape is not and has never been about what the woman is doing. All of us, regardless of what we look like, have the right to make choices about who we have sex with and when. 
But it's important to point out that Wayans's dangerous comments also cosign on this tired myth that powerful, rich and/or attractive men "don't need" to rape. Yes, Cosby may have had plenty of women falling at his feet, but rape isn't about having options or being desired, rape is about a sick need to dominate, control and manipulate others.

Now, given the backlash, of course Wayans is backpedaling, claiming that folks were "twisting his words" because he's just "joking."
Yeah, we heard your condolences to the victims....right after you called these women "un-rape-able b*****s" for laughs.
In the end, I don't know what it will take for folks to get that rape is a traumatic and life altering experience — not a damn joke. Survivors need and deserve empathy and understanding. Never should they be blamed for their victimization, nor should their pain be used as a punchline or as a means for a forgotten comedian to be relevant again.
The opinions expressed here do not necessarily reflect those of BET Networks.


BET.com always gives you the latest fashion and beauty trends, tips and news. We are committed to bringing you the best of Black lifestyle and celebrity culture. 
(Photo: Ouzounova/Splash News)