Keshia Knight Pulliam's Ex Goes Nuclear on Her Child Support Claims
The drama continues.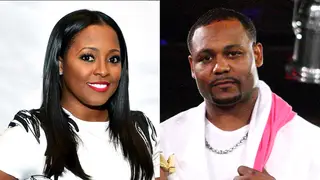 It seems like Keshia Knight Pulliam has been pregnant — and battling her ex-husband, Ed Hartwell, over paternity of their baby — forever. Days before the former Cosby Show star is due to give birth, the drama isn't slowing down one bit.
After Pulliam made claims that Hartwell belongs in jail for missing a deadline for a paternity test and that he owes her an undisclosed amount of money for child support, Hartwell is clapping back with his own version of the truth.
According to legal docs obtained by TMZ, Hartwell is calling BS on Pulliam's claims, saying he has paid her every dime he owes her in financial support and the paternity "deadline" was simply a date she made up. He hasn't committed to taking the paternity test. He goes on to say that Pulliam is creating all this drama for media attention.
The actress, meanwhile, seems to be focusing on the coming birth of her daughter, Ella. She shared some clips from her star-studded baby shower just this past week:
Clock is ticking... hopefully these two will figure it out before it's time to head to the delivery room.
Go back to the beginning of their divorce drama with BET Breaks, above.