A Levee Blast Saves an Historic Black Illinois Town
Historic Black town Cairo, Illinois, was almost washed away by floodwaters. A legal battle saved it but unearthed racial tensions.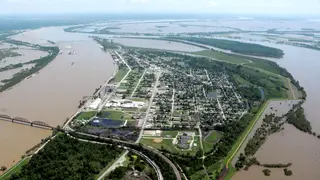 Nestled between the Ohio and Mississippi rivers is a small but historically significant town named Cairo, Illinois. It is referenced in the Mark Twain novel The Adventures of Huckleberry Finn, and in the W.C. Handy song "St. Louis Blues." Once a bustling river town, Cairo is now home to approximately 2,800 people, 70 percent of whom are African-American, and is struggling to survive deep poverty and a deteriorating infrastructure. Lately, it has literally been in the eye of a storm and very nearly washed away by floodwaters.
Late Monday night (May 2) and again on Tuesday (May 3), the U.S. Army Corps of Engineers blasted holes in a Mississippi River levee to prevent Cairo from flooding. The water level had reached a frightening 61.72 feet, and Cairo Mayor Judson Childs feared that his town would replicate the tragedy that occurred in New Orleans's Ninth Ward after Hurricane Katrina.
Childs had to launch a legal battle to have the levee breached, which he won. Missouri officials objected to the plan because it meant flooding thousands of acres of farmland in the state and displace 200 people. In fact, when Missouri Republican House Speaker Steven Tilley was asked last week whether he preferred to see the farmland flooded or Cairo underwater, he replied, "Cairo. I've been there. Trust me Cairo." He later apologized for his insensitive remarks, claiming he was overzealous in defending his state.
But U.S. Rep. William Lacy Clay (D), also a Missouri lawmaker, said that saving Cairo was the right thing to do.
"Cairo is an historic place. In the 1960s, early 70s, it was the height of a lot of racial upheaval," said Clay. "Even the federal judge, who happens to be a friend of mine, and a cousin of Rush Limbaugh, believed it was right to save the town."
(Photo:  ASSOCIATED PRESSAP)