Wu-Tang Makes a Promise to Prodigy Following His Death
Long live Prodigy.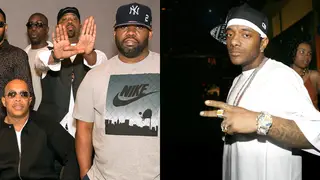 When hip-hop loses one legend, all legends feel the brunt of the devastation.
During an interview with Montreality, the OG rap group spoke to the legacy that the Mobb Deep member, whose untimely death fell upon hip-hop on June 20, left behind. RZA began the commemoration, expressing the love and reverence they all had for P as an artist and a brother and recounting his first time ever being graced by his emcee skills.
"I remember driving in the van, and the Mobb Deep tape came out," he said. "Ol' Dirty [Bastard] had it. Wu-Tang was the most bong-bong [at the time]. Dirty was like, 'Yo, these young boys right here is on fire!' I think Havoc and Prodigy both were advanced beyond their years. Some MCs don't get good until they're 25 or something, but at 19, the kid was already nice! Rest in peace."
Raekwon chimed in with a recollection of his own, remembering his cherished moments spent with Prodigy in the both. The Murda Muzik rap veteran wasn't only a beast on the mic, but on the soundboard as well.
"Me and Prodigy had a relationship for over 20-something years," Raekwon said. "I remember doing 'Eye for an Eye' in Queensbridge just being there with him. We shared many moments just getting up in the booth, versin'. He had a good ear for beats. I always told him that his ear for beats was golden. That's my family right there. So I just want to send the condolences out to his loved ones, to his immediate family. We gonna hold his legacy down."
Joining Havoc and the rest of Prodigy's hip-hop family, we're certain Wu-Tang will hold up that promise with honor .
Listen to their full conversation on Prodigy and a few of their thoughts on the current state of hip-hop, like mumble rap, in the video below.